Top 10 Burgers in Orange County
Who doesn't like a burger, I know I do.  The Hamburger has many claims as to the originator, with some going back all the way to 1896.  The hamburger is a convenient handheld vessel, that can be customized and cooked to your liking.  Some might call it the perfect "All American" meal, I call it lunch, dinner and maybe even breakfast.
Check out OCFoodList's top 10 Hamburgers and Burger restaurants in no particular order.  Feel free to chime in with places we missed or comments.  Love Peace and Hamburger grease.
Peter's Gourmade Grill $$ – Tustin, CA – ABC Burger – ABC Burger is the showstopper here, Avocado, Bacon and Cheese, enough said. Their Gyro fries are a must try as well. They even have a text message ordering system.  This place started in a gas station and has since moved to a bigger location and expanded that location.
The Playground $$$ – Santa Ana, CA – It might be a secret menu item now but it's still one of the best burgers in OC, The Playground burger doesn't disappoint. Plus try their Maple Glazed Pork Chops, Brussels Sprouts, Sticky Toffee Pudding and Craft Beers to wash down that burger. Reservations are recommended at this fine establishment.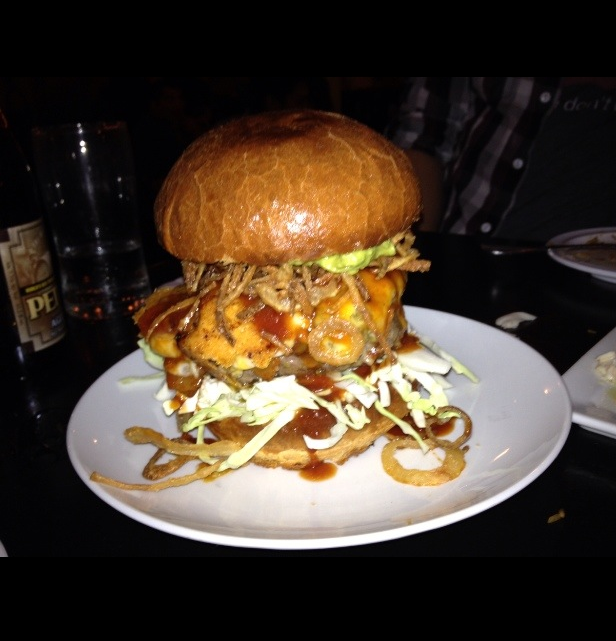 The Playground Burger – The Playground
In-N-Out Burger $ – multiple locations in Orange County and Los Angeles – This began as a Southern California staple. You crave In-N-Out daily and can also give them props for staying true to their original roots. A simple menu with quality ingredients at a great price still ring true to this day.  Double Double with grilled onions, extra spread and animal style fries all day every day.
Umami Burger -$$$ – multiple locations in Orange County and Los Angeles – Umami Burgers are spreading like wildfire. Each Umami Burger offers a unique burger or sandwich only sold at that location. Truffle Burger with some truffle cheese fries, cheese stuffed tator tots or tempura onions rings…or have them all.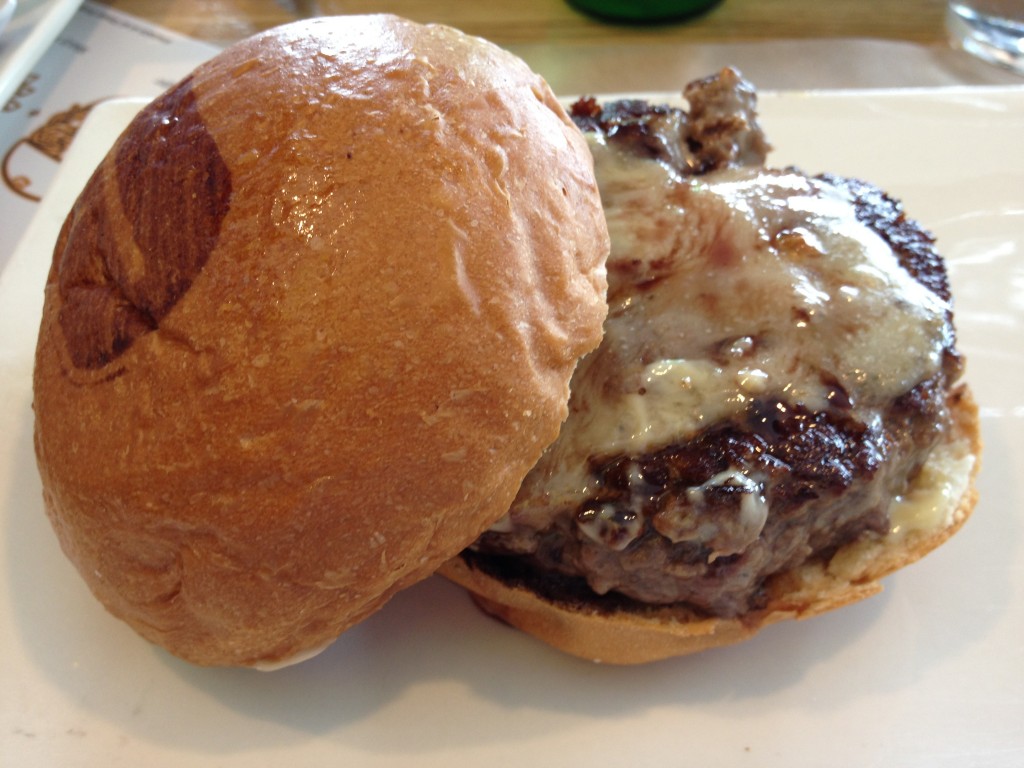 Truffle Burger – Umami Burger
Teddy's Deli $$ – Laguna Hills, CA – Teddy's Deli is located in an industrial complex which is an odd location for a delicious burger joint and deli but with burger this good they are still always crowded. They have great burgers, sandwiches, breakfast and a healthy menu when you can't eat a burger every day. Their staff is very helpful  and friendly, always able to give recommendations and suggestions .  The ABC Burger (Avocado, Bacon and Cheese) and seasoned fries is delicious but they also have unique offerings like the Bad Wolf Burger with crispy hash browns, provolone, tomatoes, basil, avocado and pineapple mix with spicy mayo on a brioche bun.  Only open for breakfast and lunch.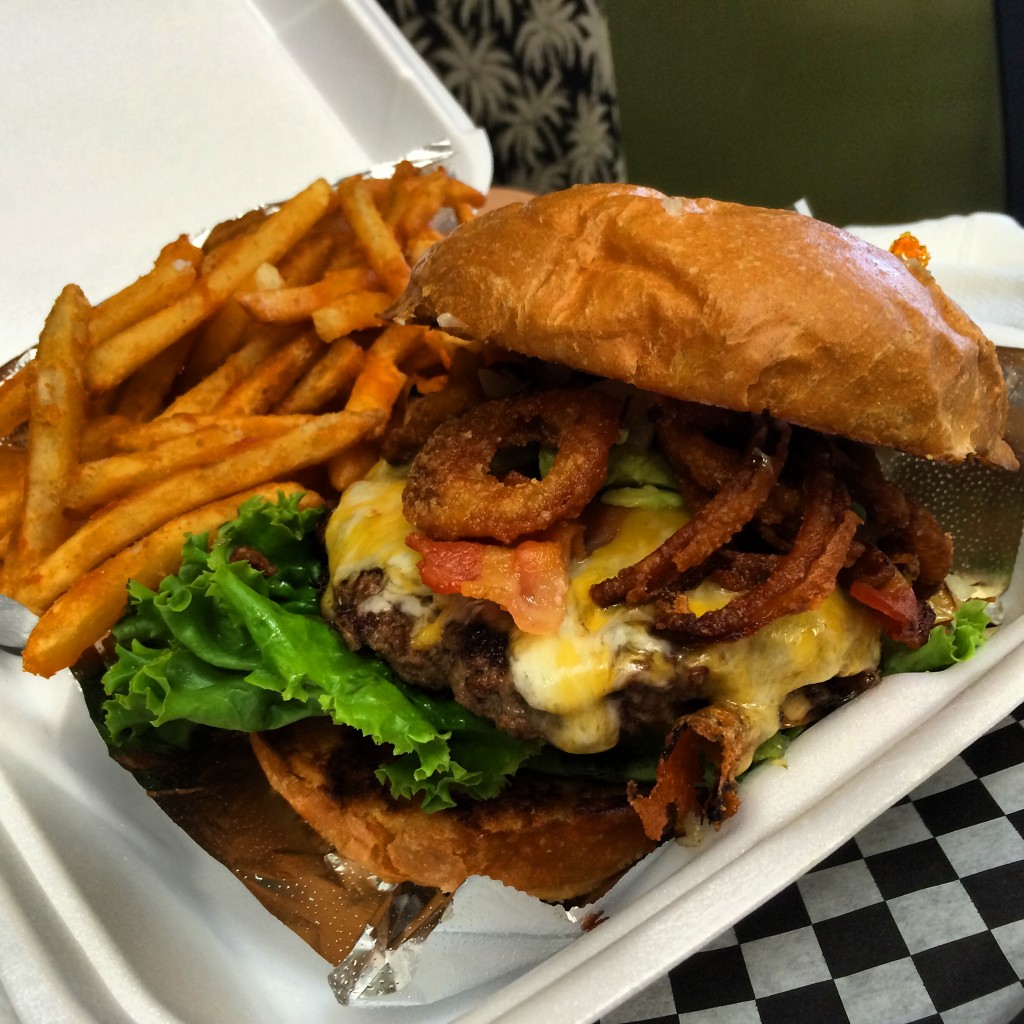 ABC Burger with Seasoned Fried – Teddy's Deli
Fuji's Famous Burger $$ – Huntington Beach and Fountain Valley, CA – They were established in 1973 and I have been going there since my childhood. Teriyaki burgers are their specialty and the Teriyaki Bacon Cheeseburger is an item to behold. They also have a Charsiu Pork Burrito with Fried Rice, Cheese and Avocado that is off the chain.
G Burger $$ – Fountain Valley, CA – G Burger or Gourmet Burger offers a wide selection of burgers. They have The G Burger which you can add every topping they offer includes Teriyaki glazed Onions, Portabello Mushrooms, Pineapple, Fried egg, Pastrami, Bacon, Avocado, Onion Ring and Cherry Peppers, good luck eating the monstrosity though. Their White Truffle Burger and G Style Fries are delish.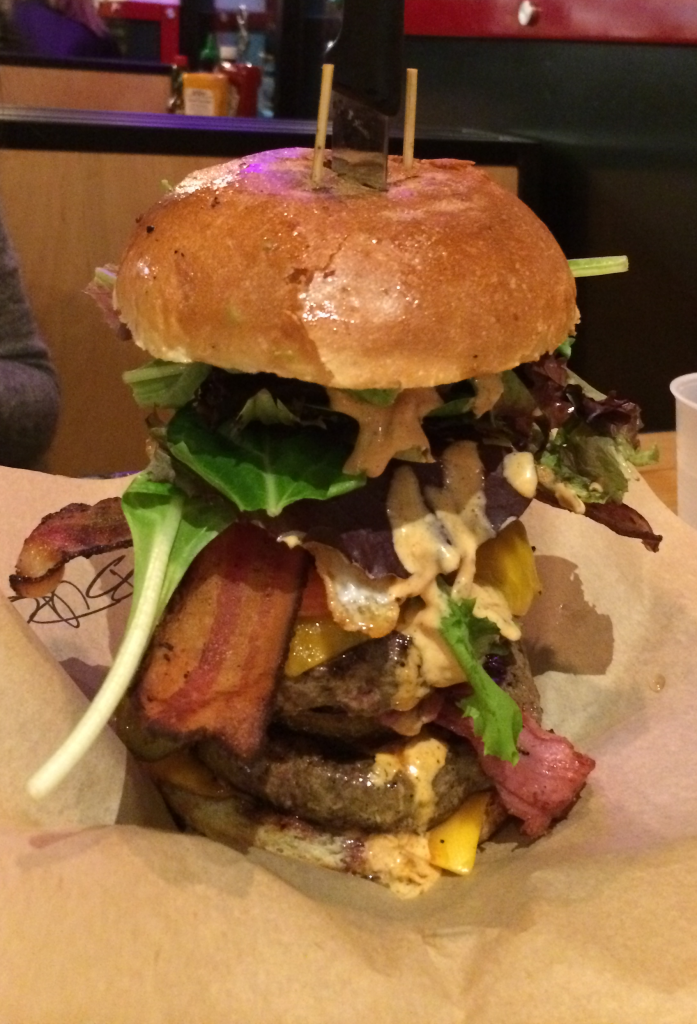 G Burger – B Burger
25 Degrees $$$ – Huntington Beach and Los Angeles, CA – 25 degree is named after the precise temperature between a raw and well done Hamburger. They are considered a sophisticated burger bar. 25 Degrees' menu includes breakfast, burgers, sandwiches, salads, shakes and cocktail list.
TK Burger $ – Santa Ana, Costa Mesa, Huntington Beach and Los Angeles, CA – $ – This place has good Burgers for a very reasonable price that are still delicious. They have a Big Bargain Combo for $6.29 that includes a charbroiled TK Burger, Fries and a drink, now that's a deal.
10.   Mick's Karma Bar $$ – Irvine, CA – Head over and Mick is           always willing to chat while serving his Karma Burger. They also have a Habanero Burger and Strawberry Basil Lemonade that is a must try. You can order through their online system to avoid the line and business crowd for lunch.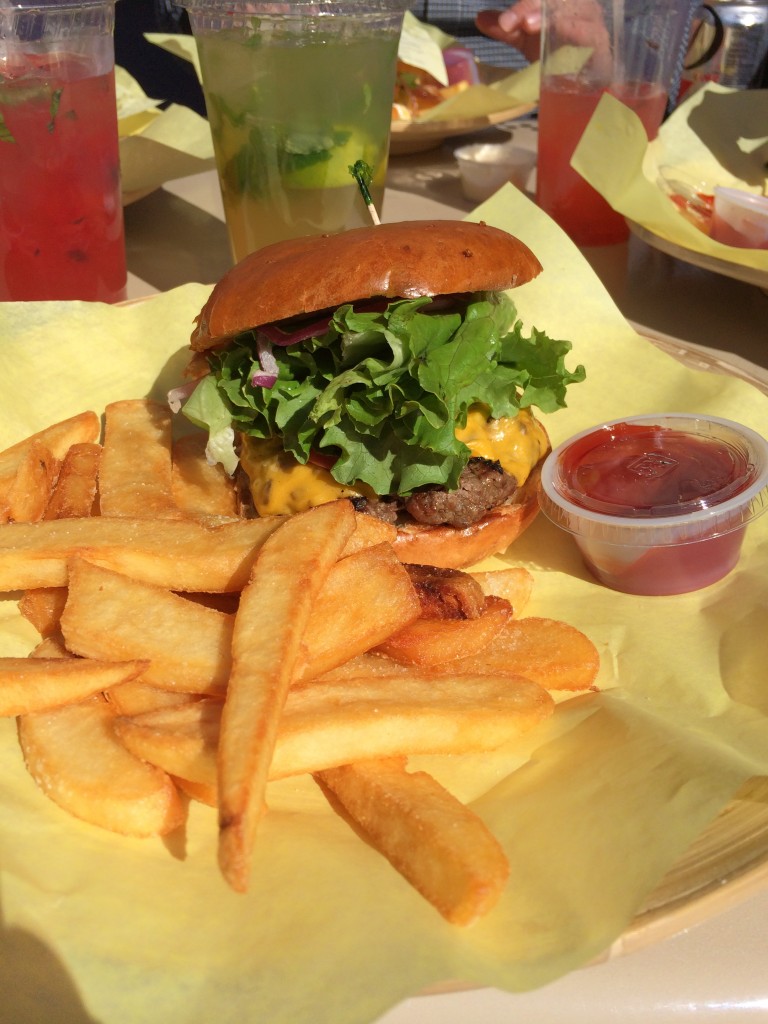 Karma Burger with Fries – Mick's Karma Bar
Bonus:
Rustic Canyon $$$ – Santa Monica, CA – Rustic Canyon is actually considered a wine bar but it has an unforgettable Niman Ranch Burger.  They actually removed the burger from the menu because all the patrons were only ordering burgers which was going against the direction of this high end restaurant.  But luckily you can still request this secret menu item.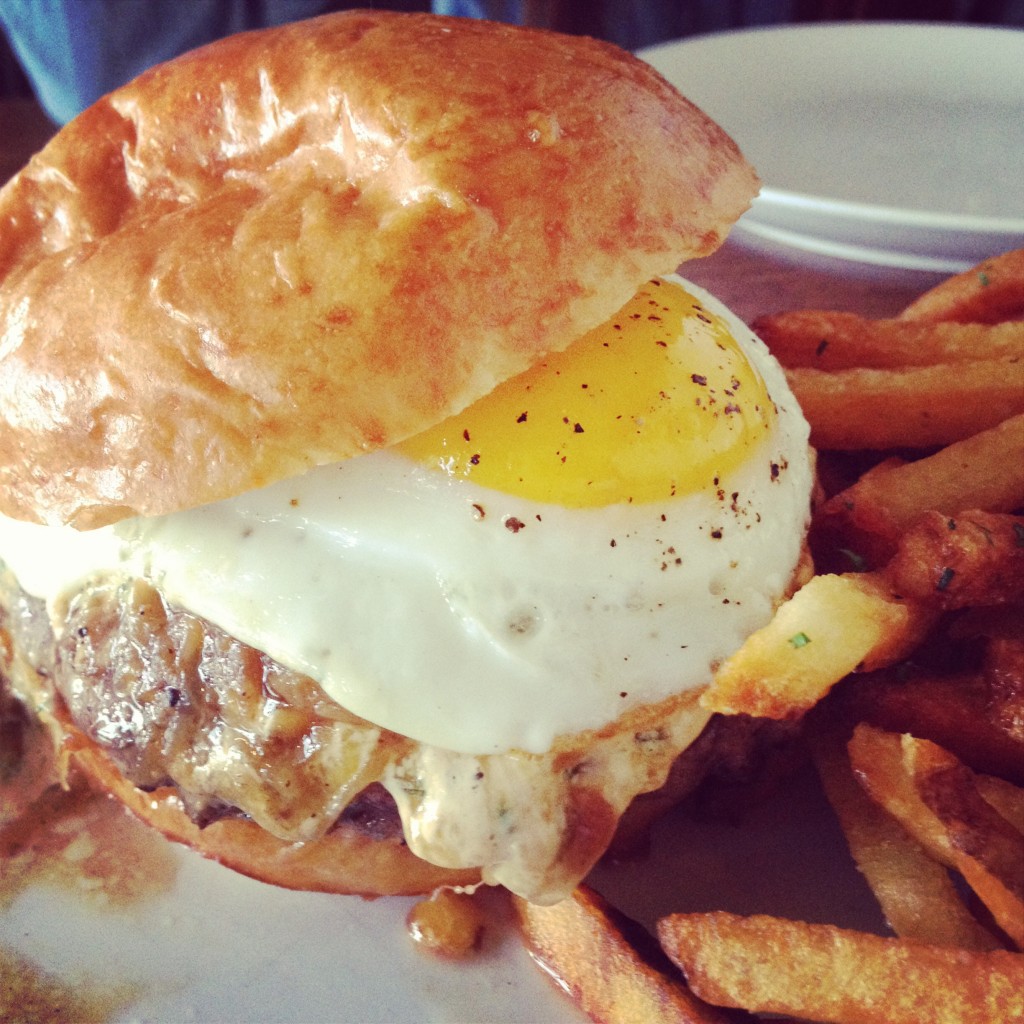 Niman Ranch Burger – Rustic Canyon
Father's Office $$ – Santa Monica and Los Angeles, CA – Celebrity chef Sang Yoon's Gastropub has a multitude of craft beers and classic cocktails to go along with their great food.  The Father's Office Burger has garnered much attention.  I will say it is not a traditional burger but good nonetheless, the patty is a mix of ribeye and chuck topped with a bacon compote, gruyere cheese and arugula.