Trois Mec – Los Angeles, CA.  Ludo Lefebvre's brick and mortar restaurant, what can I say.  Ludo has been one, if not my favorite chef for several years now. But we will get to that later, Ludo is a french born and trained chef who moved to Los Angeles, CA in his early 20's.  He became head chef at L'Orangerie and Bastide both gaining Mobil Guide five-star awards under his direction.  Ludo first caught my attention starring on Top Chef Masters and opening the pop up restaurant Ludobites in Los Angeles, CA.  Ludobites provided me with some of the best dining experiences in my life.  I still remember several dishes to this day including the Potato Mousseline, Ham Sandwich Soup and an Octopus dish (so tender that we could cut a inch thick tentacle with our fork).  I remember discussing this dish with Ludo at our table, about how amazed we were on how tender the usually tough Octopus was and Ludo replied in a heavy french accent, "It is very easy you just cook it low heat for a long time, no problem." Easier said than done.
Trois Mec is a very interesting restaurant, not only has it taken over a Raffallo's Pizza restaurant, Ludo has purposely kept the original signage intact.  So passersby may have no idea one of the best restaurants in the nation resides in a lowly strip mall on Highland Ave. Trois Mec is a reservation only prix fixe menu.  Reservations are released via their website and a hot commodity selling out for weeks within minutes of being released.  Trois Mec is considered the hottest restaurant in Los Angeles and some have rated it the top restaurant in the US.  With a prix fixe menu of $75.00 which you prepay in advance it is a steal for the quality of food you receive.
Now onto the food.  Trois Mec is definitely a restaurant I wouldn't bring someone unless they have a true appreciation for fine dining and understanding of excellent complex food.  A lot of his dishes seem very simple but the complexity is amazing.  Ludo crafts his dishes to seem very simple at the naked eye but when you dig deep with your fork and when the dish tickles your taste buds it is exactly the opposite.  Ludo is the master at transforming simple dishes and flavors you would never dream about combining and making them delicious.  His take on Garlic Bread, King Crab with Peruvian Ceviche, Veal Belly, Grilled Cabbage and Strawberry Cake were awesome.  I will admit flavor wise some of the dishes didn't agree with my palate and that could just be due to my flavor preferences.  Nonetheless Trois Mec is a magical experience.  Thank you Ludo for your creativeness, professionalism, individuality and greatness you have brought to the culinary world.  You have changed the way I have ate, tasted. looked at and thought about food, cheers.  Love, peace and Veal Belly grease!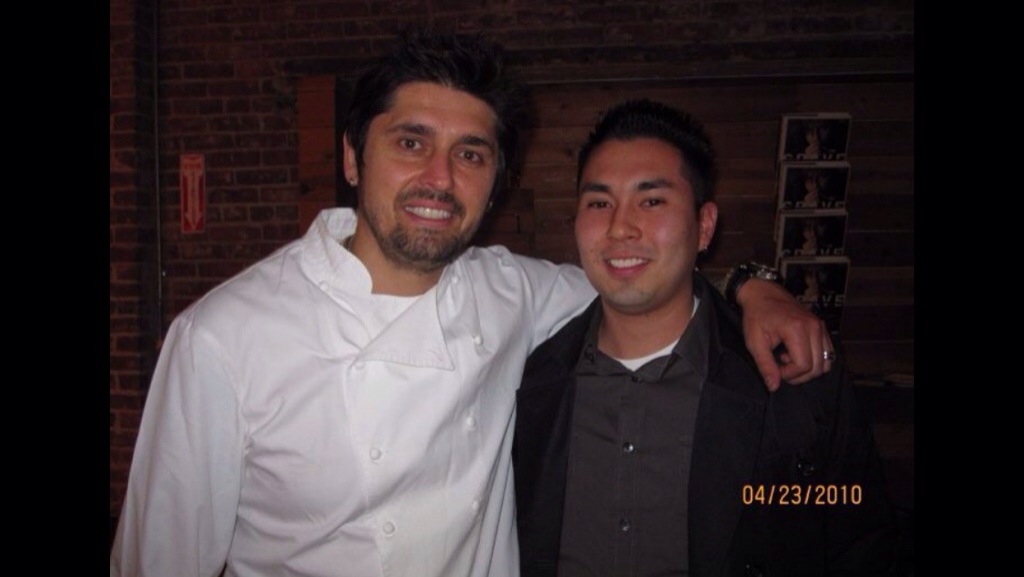 Picture with Ludo and I taken back in 2010 at Ludobites at Gram and Papas.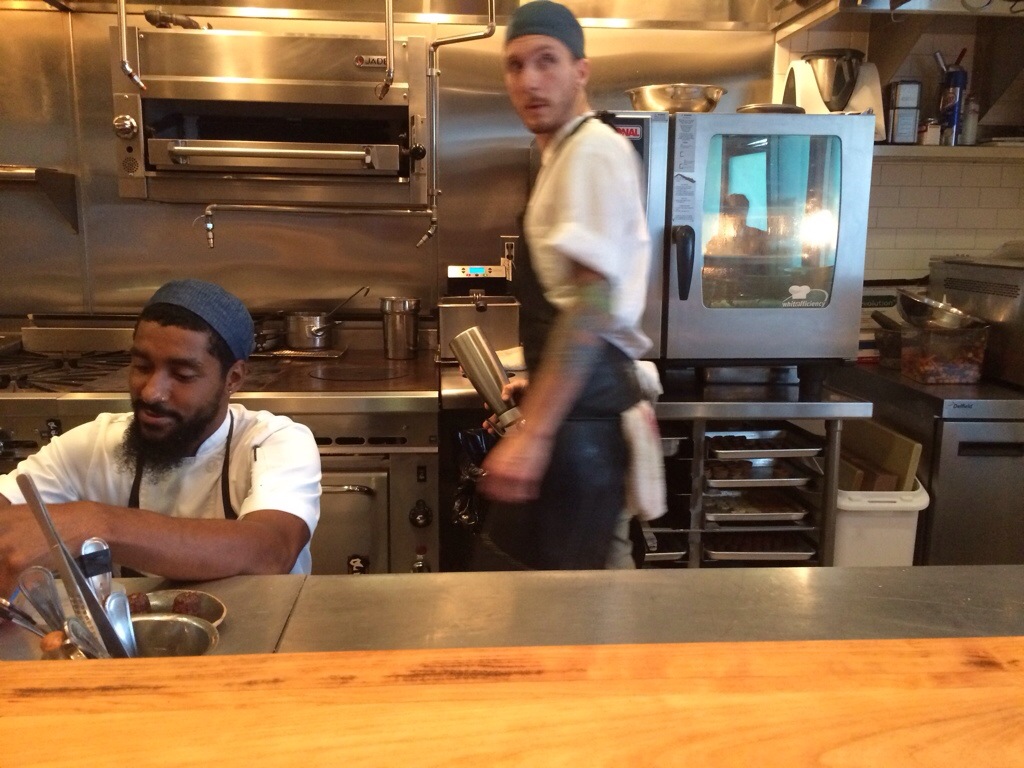 Kitchen staff hard at work

Full view of the kitchen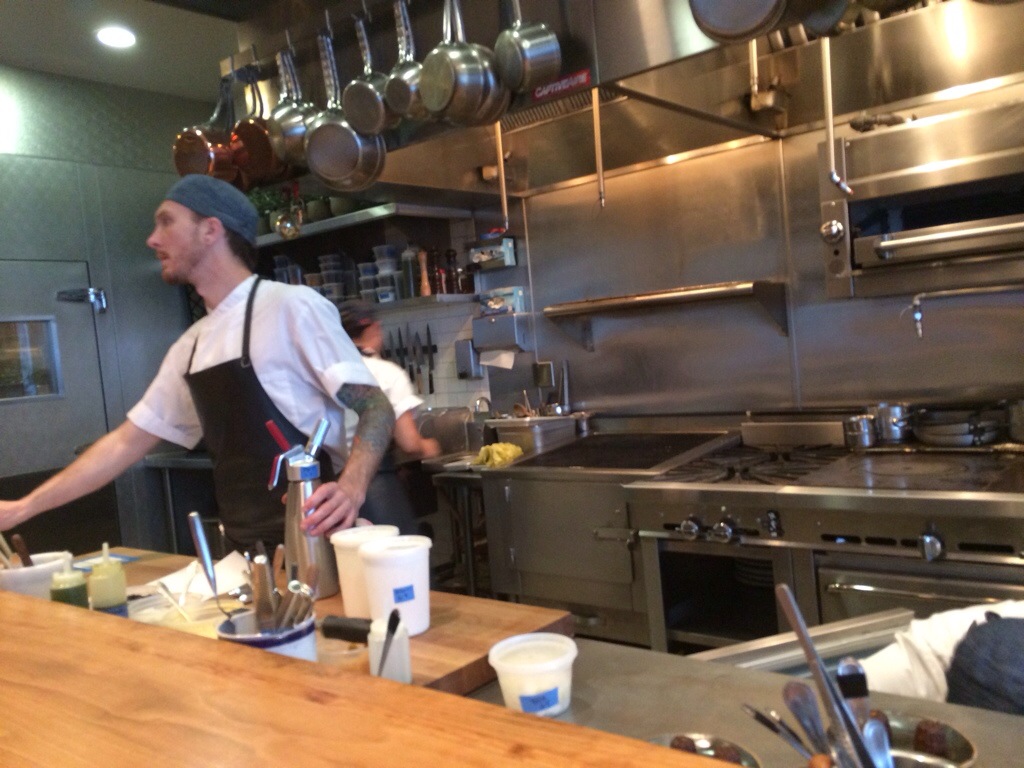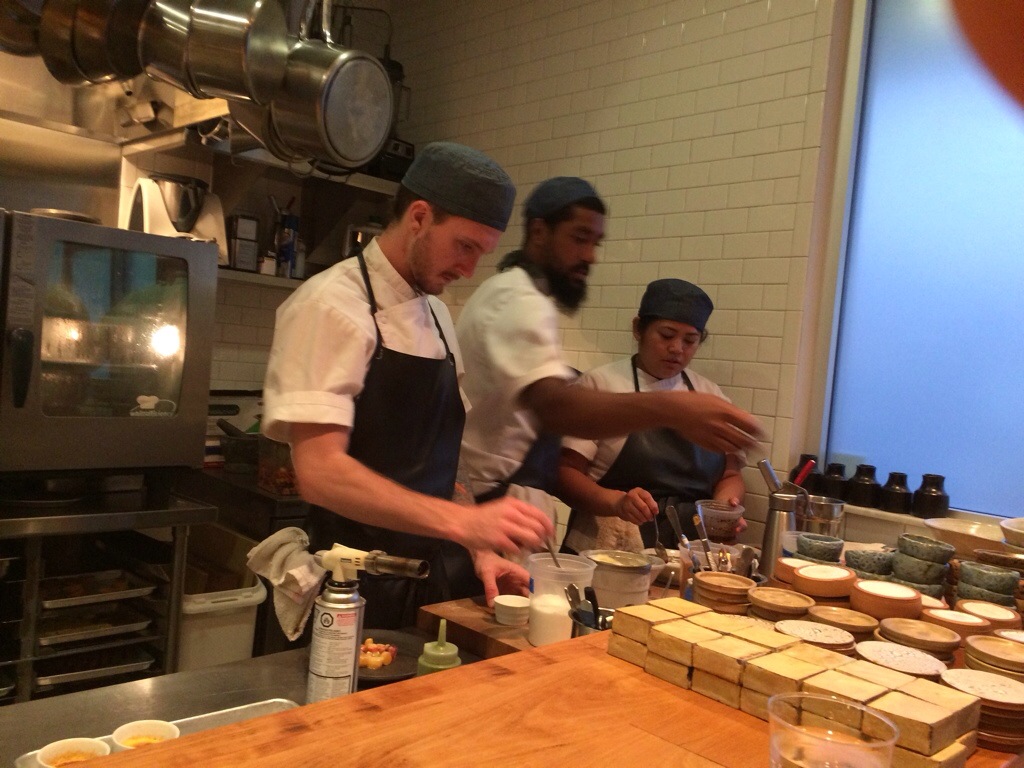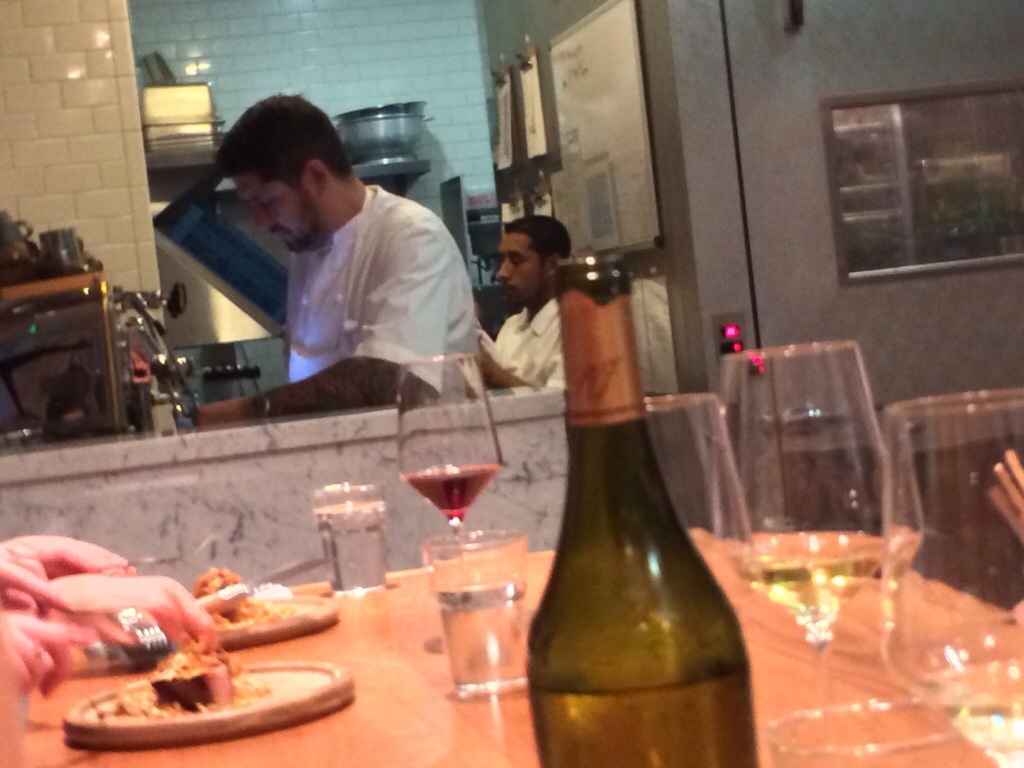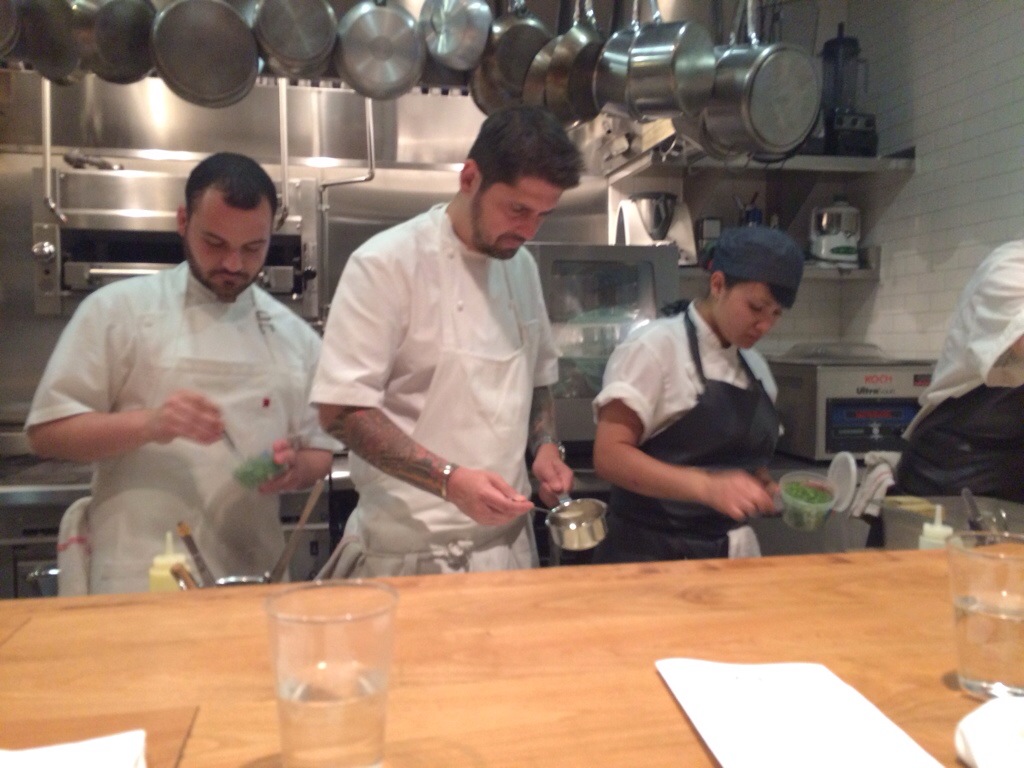 Ludo the master stepping in to add a finishing touch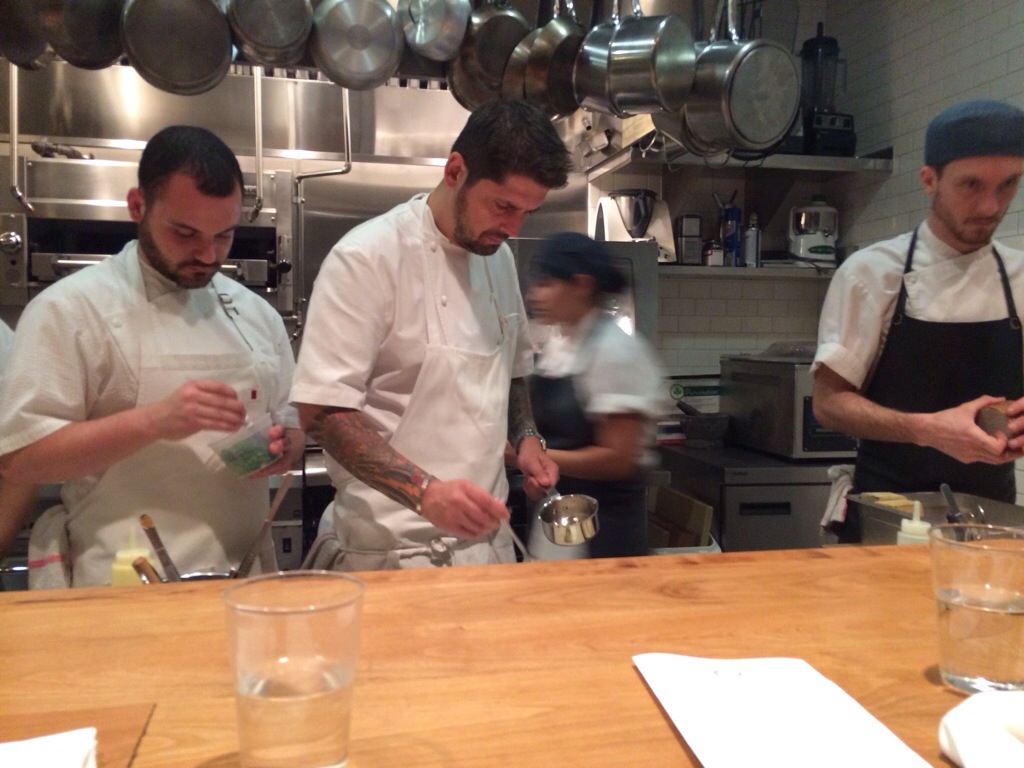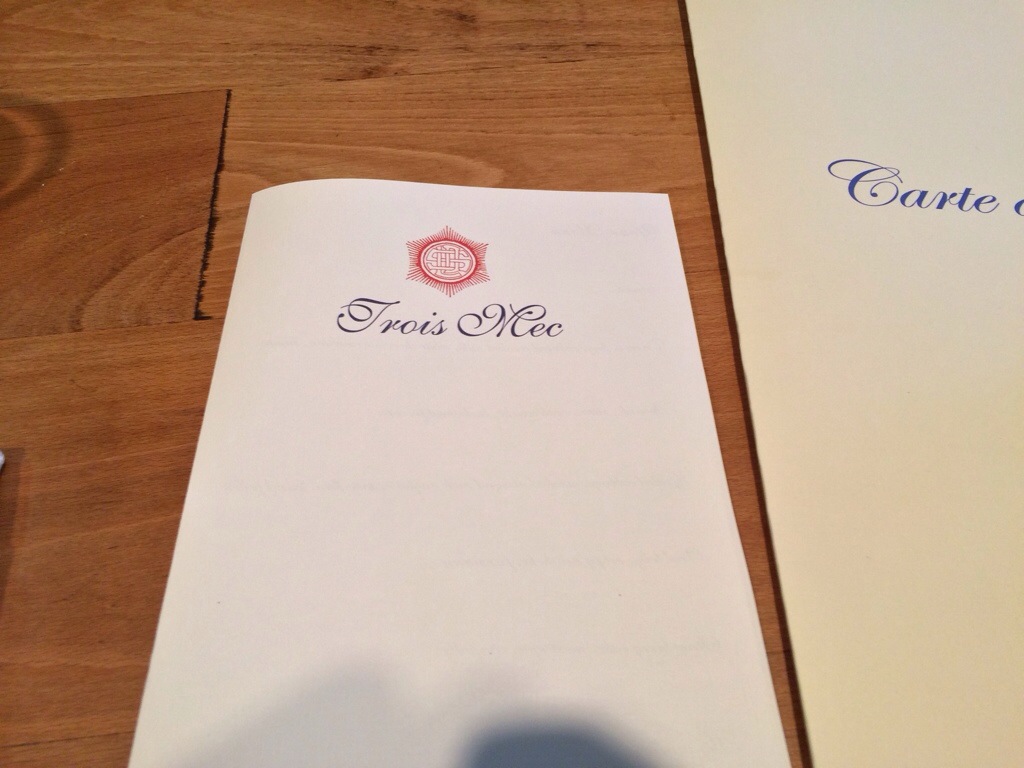 Menu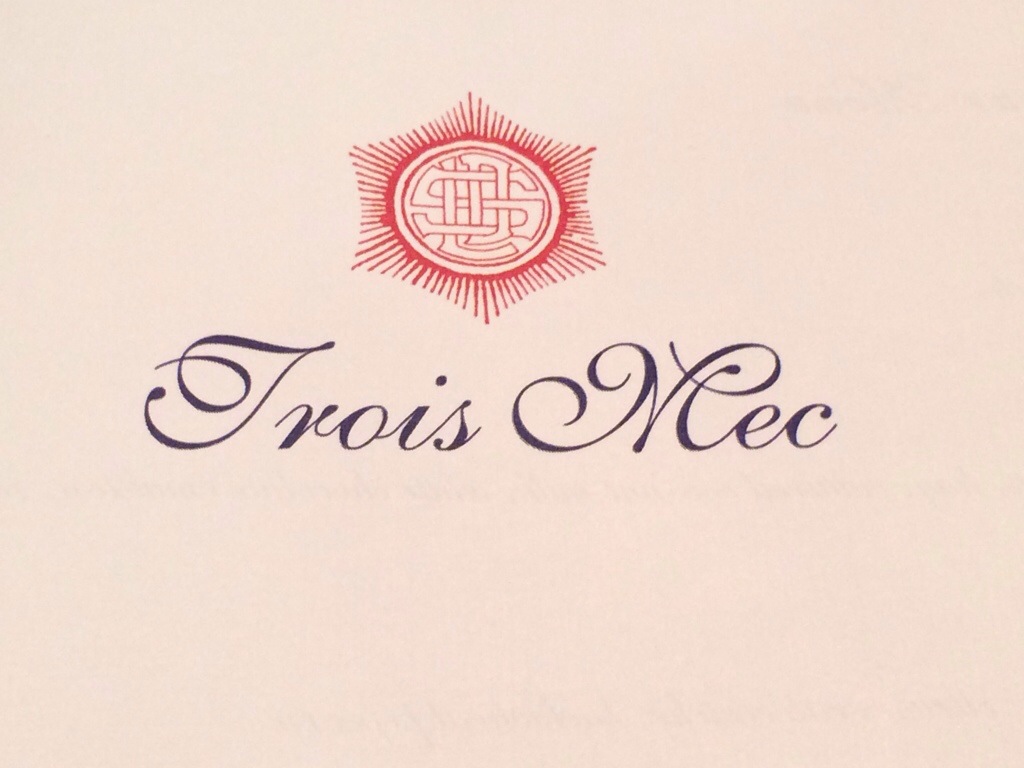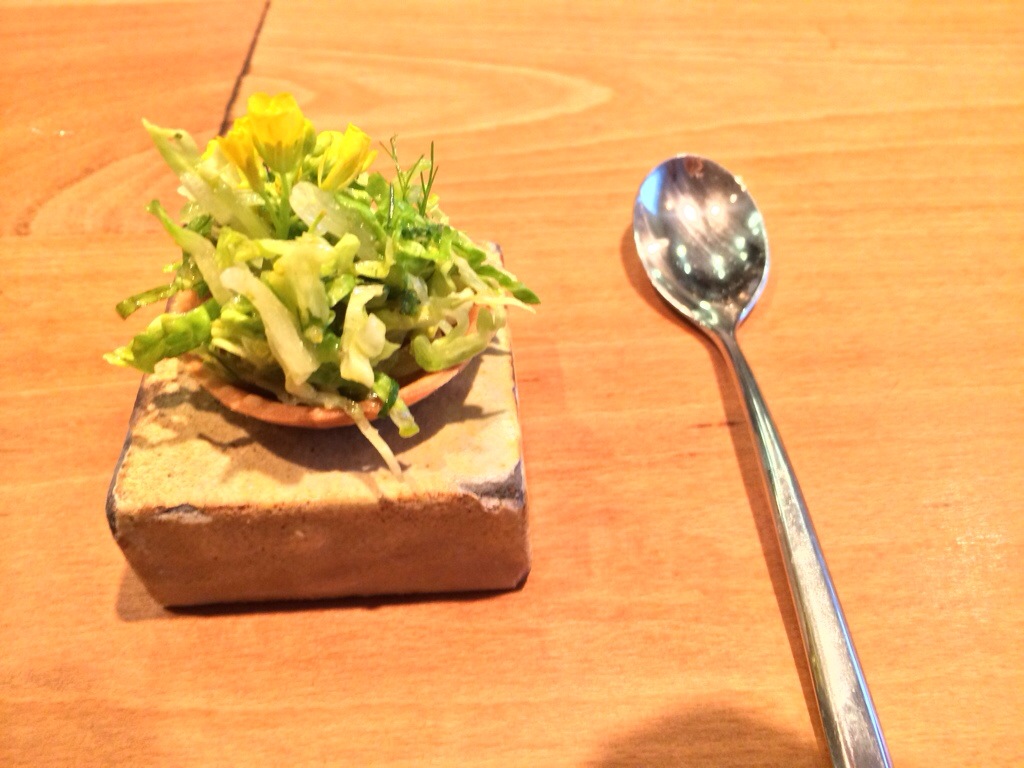 Herb Salad Tart with edible Flower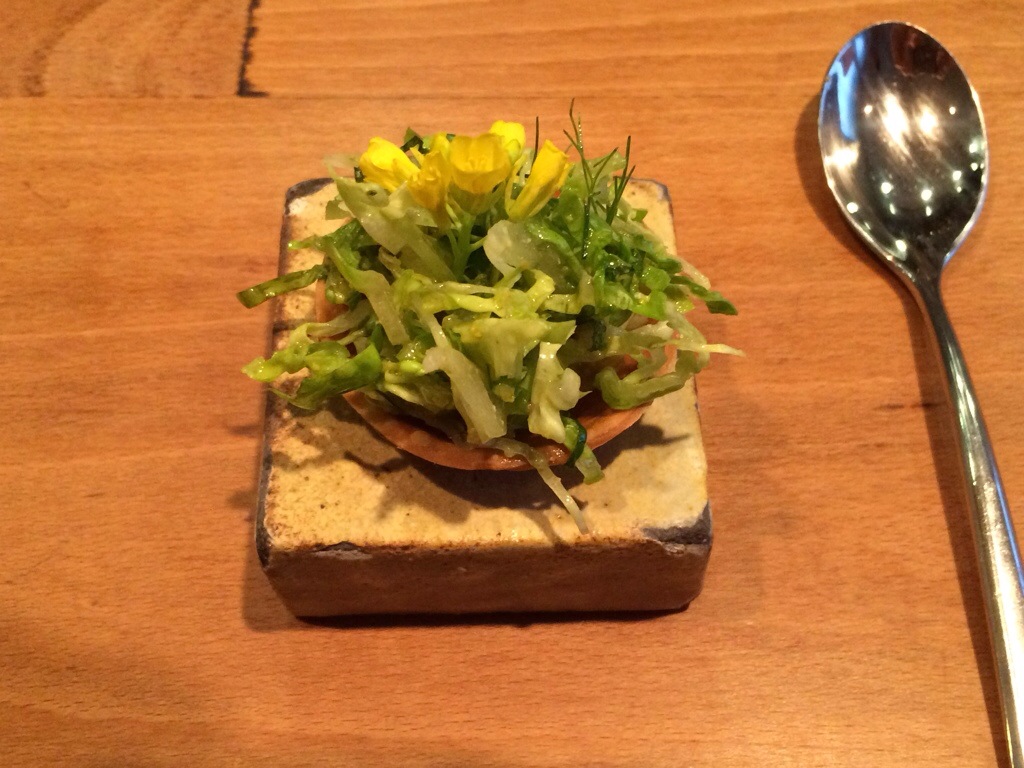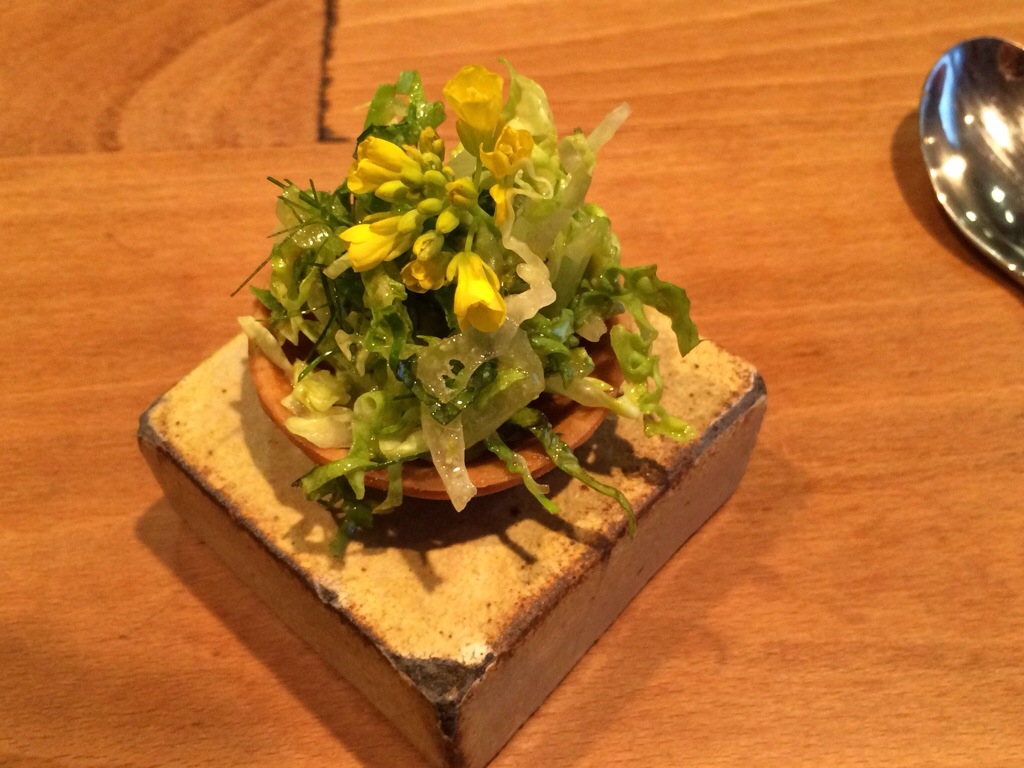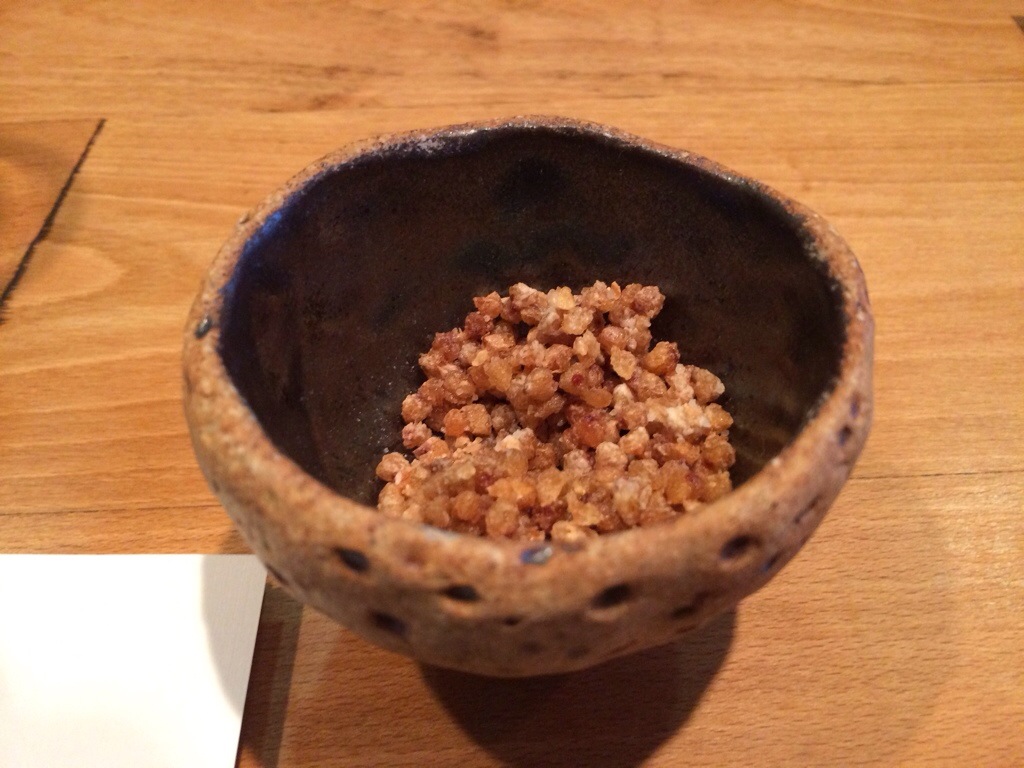 Buckwheat Popcorn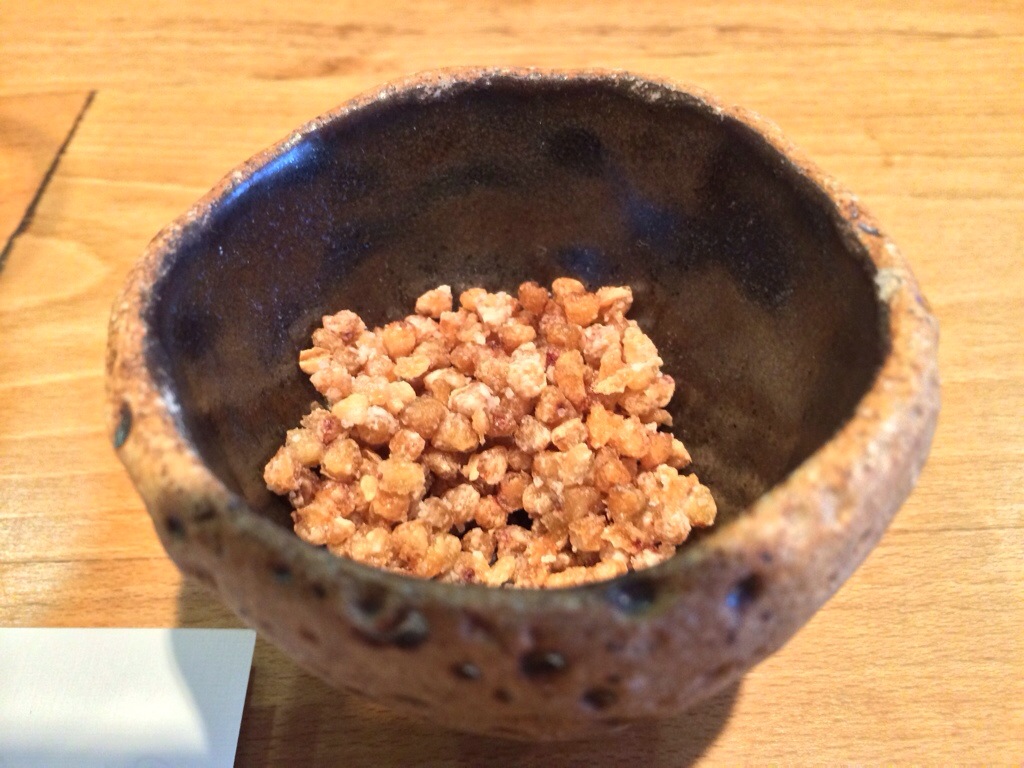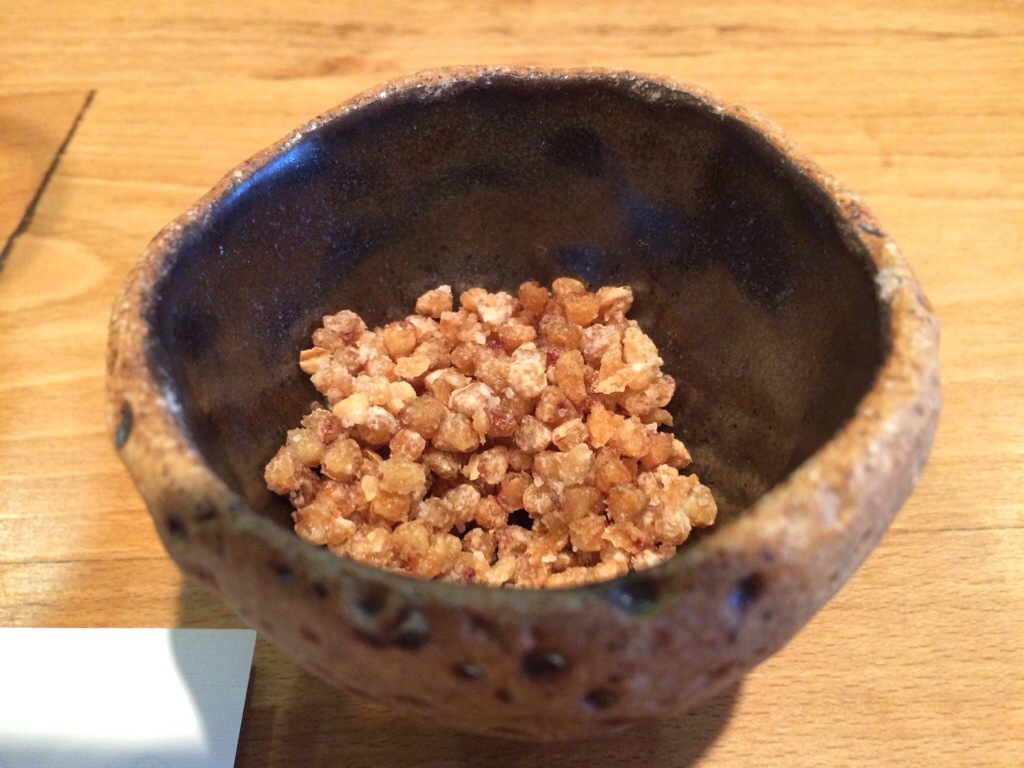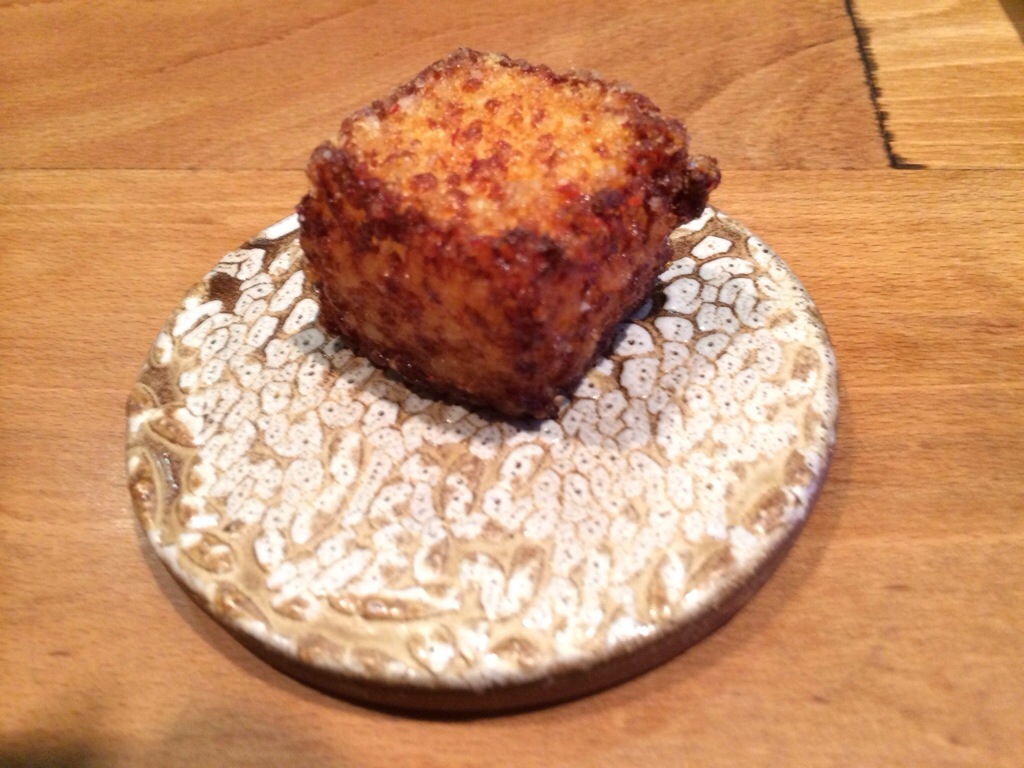 Crispy Tapioca with Passionfruit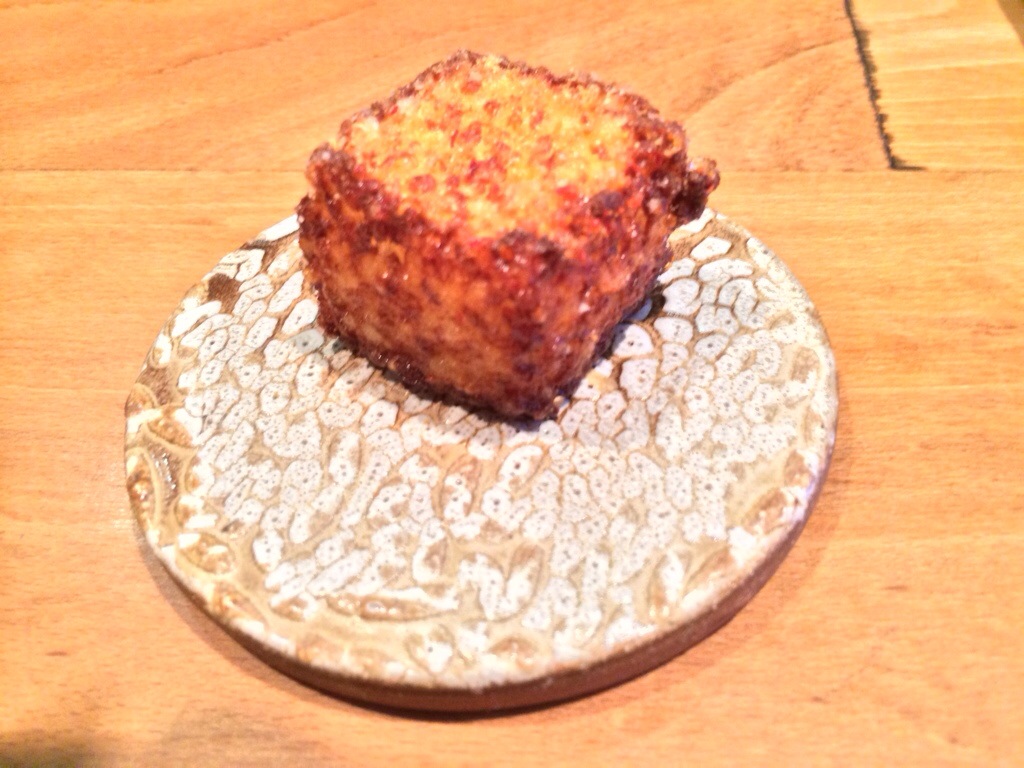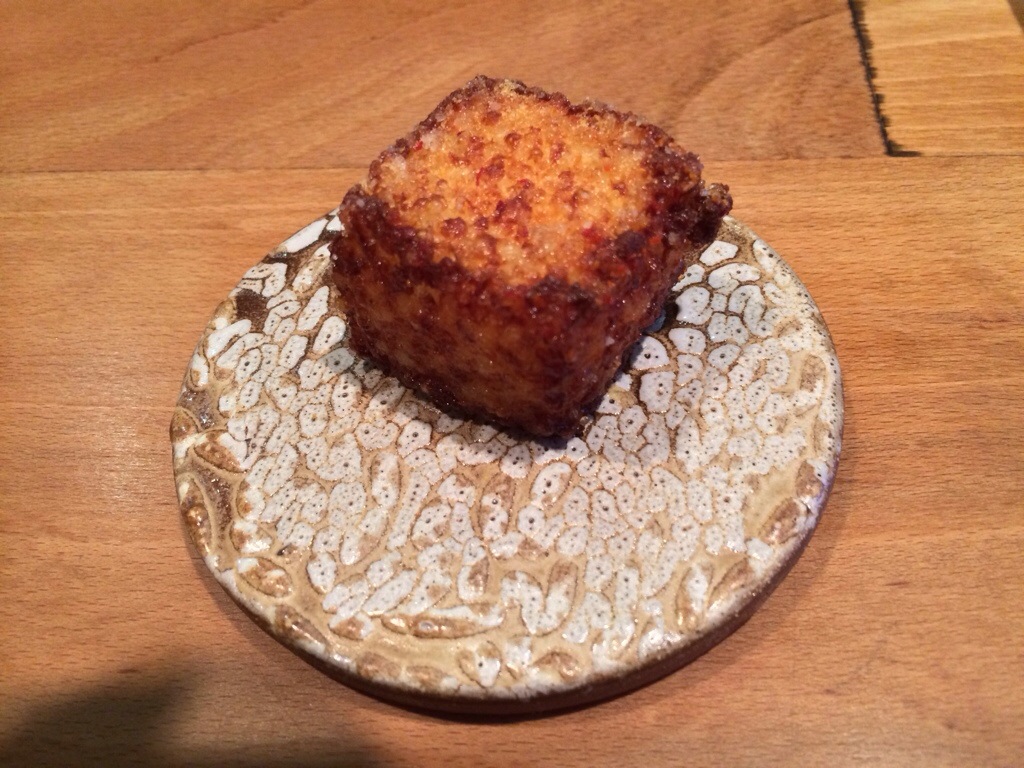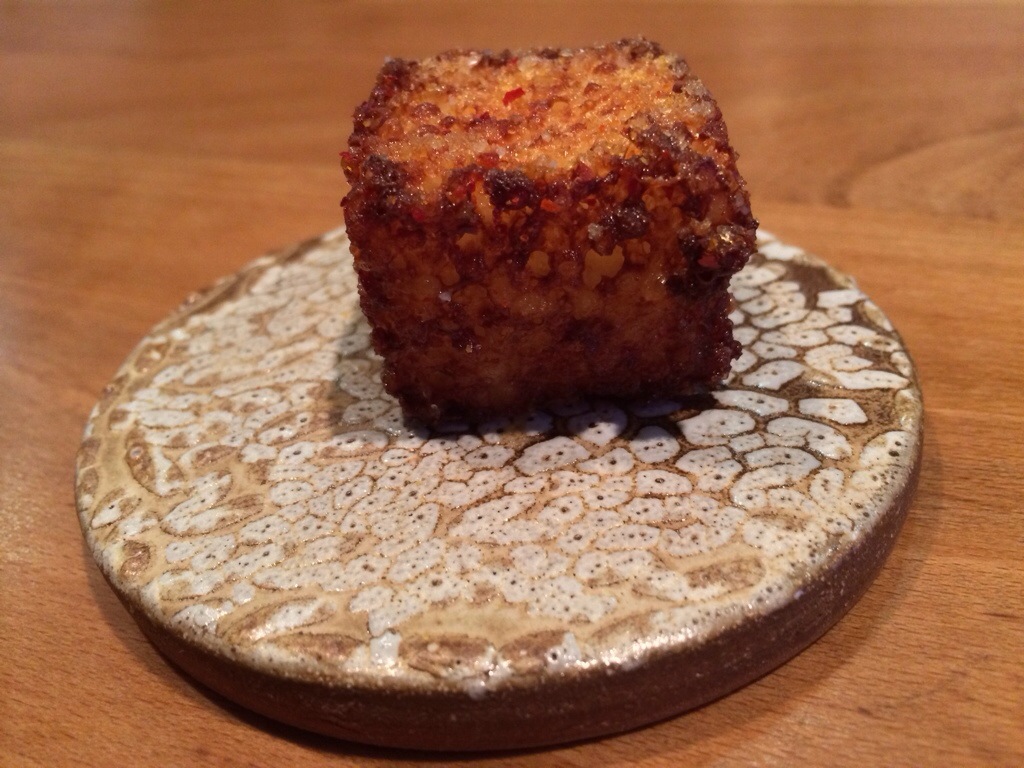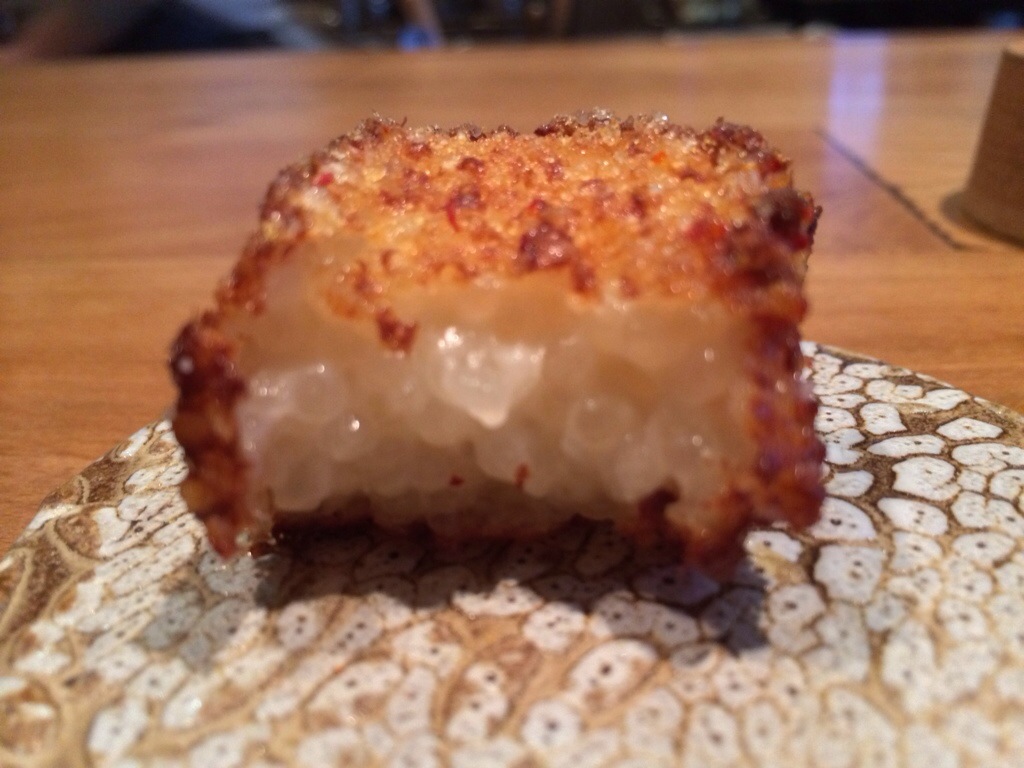 Inside the Crispy Tapioca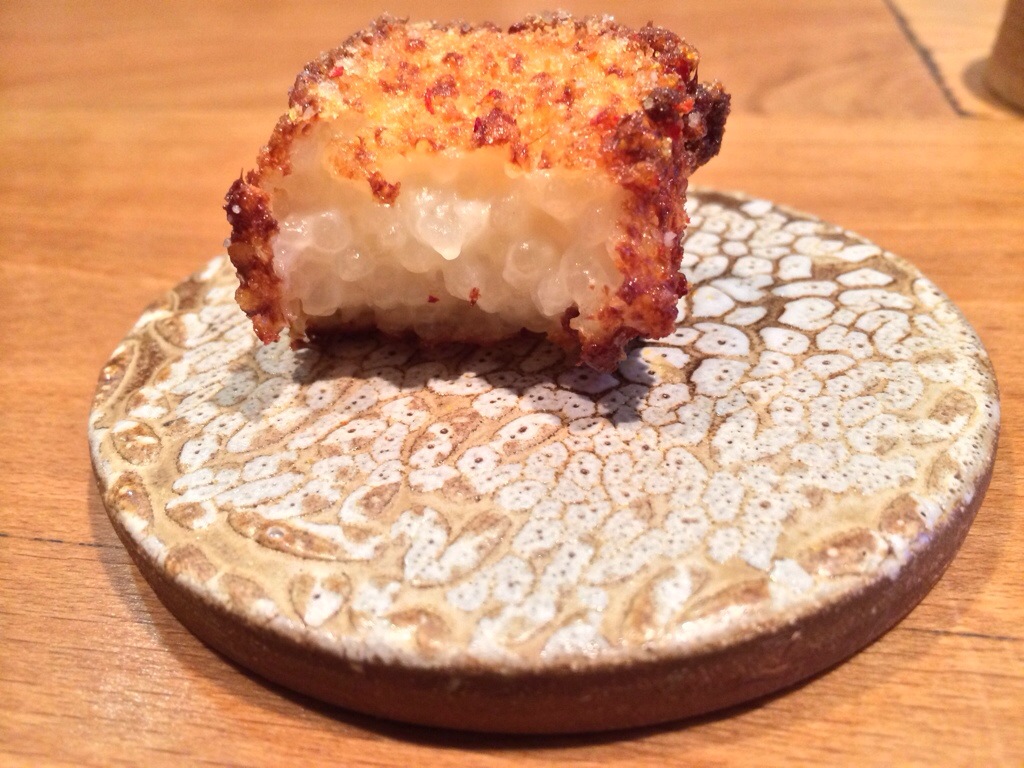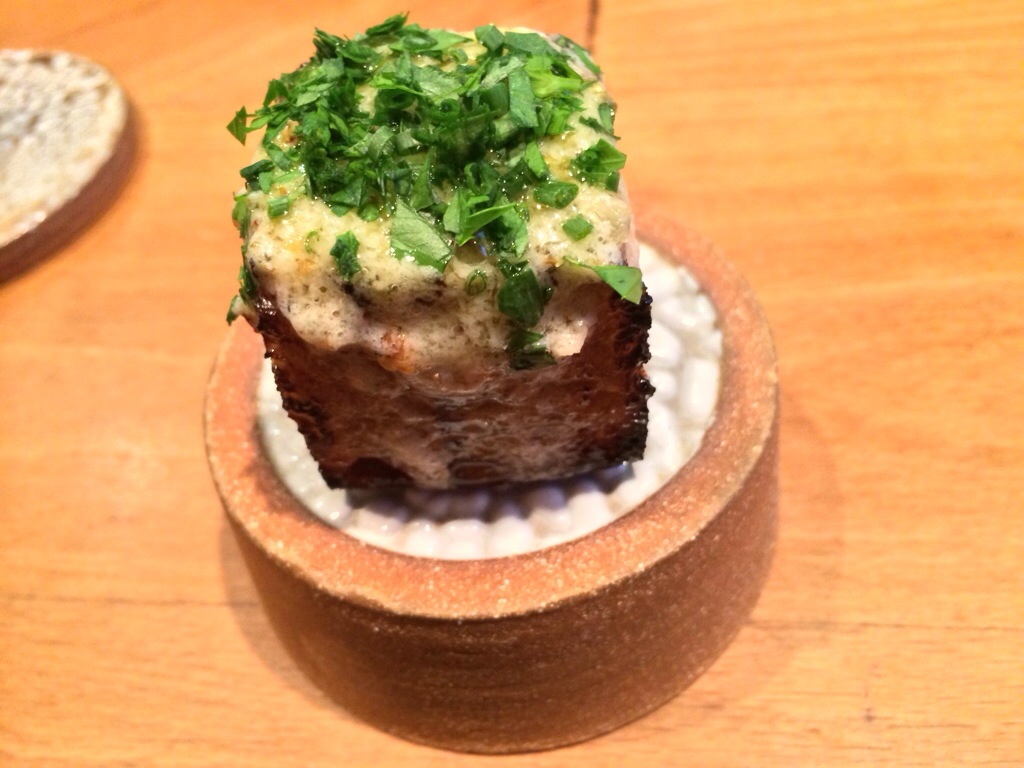 Garlic Bread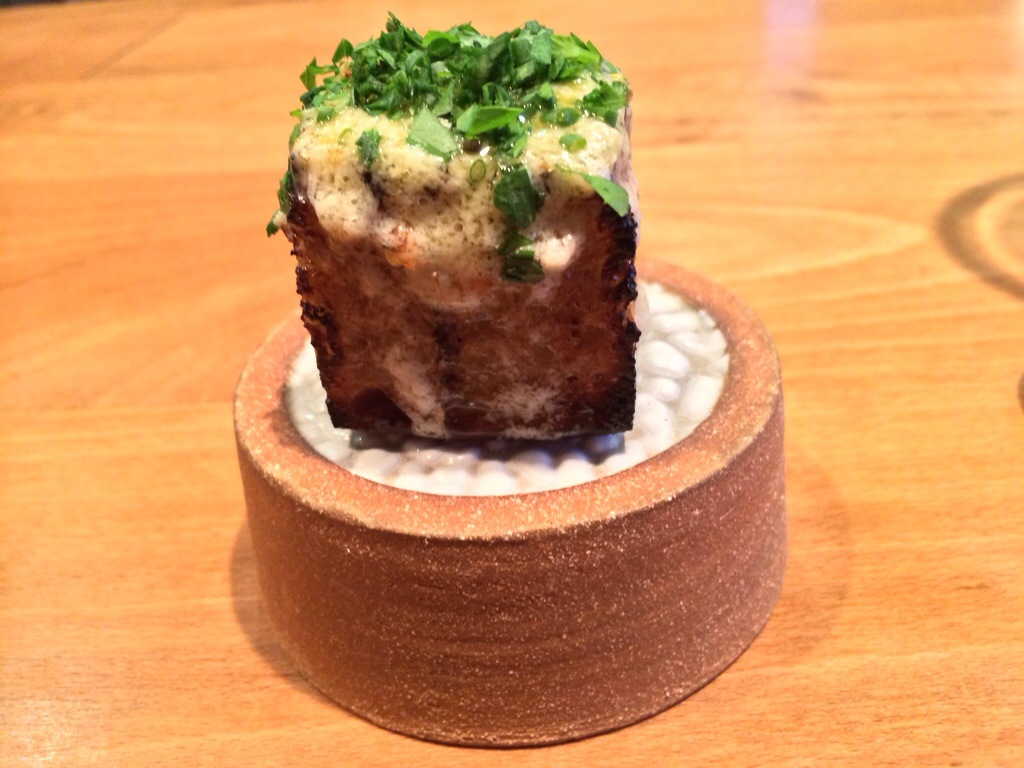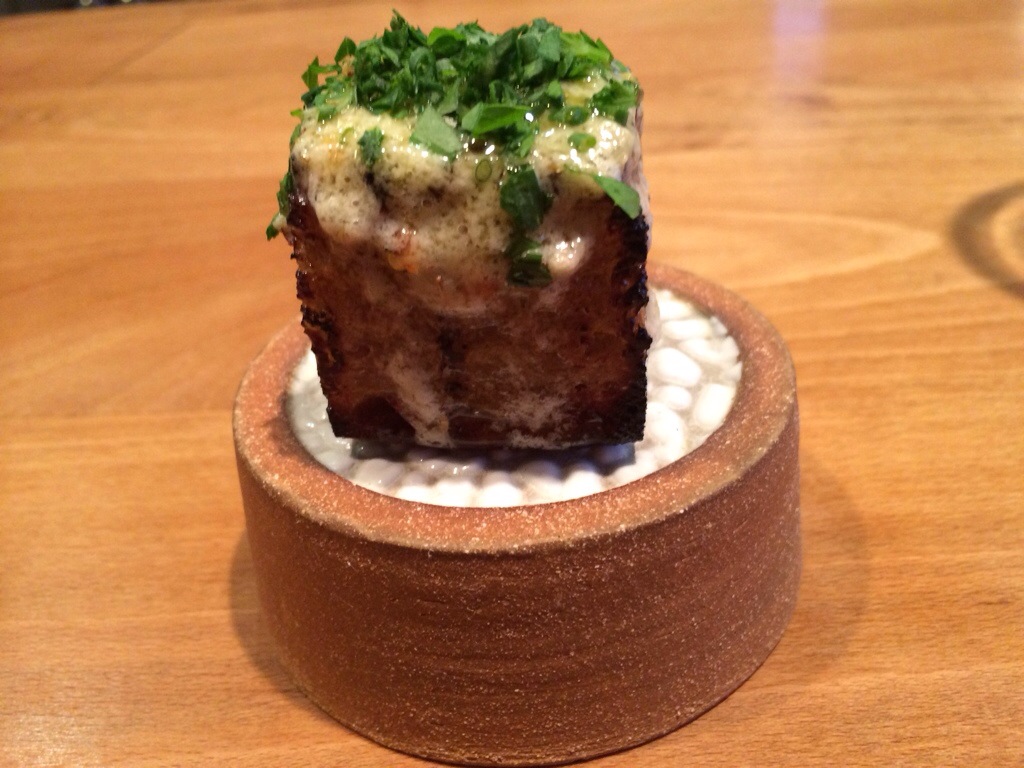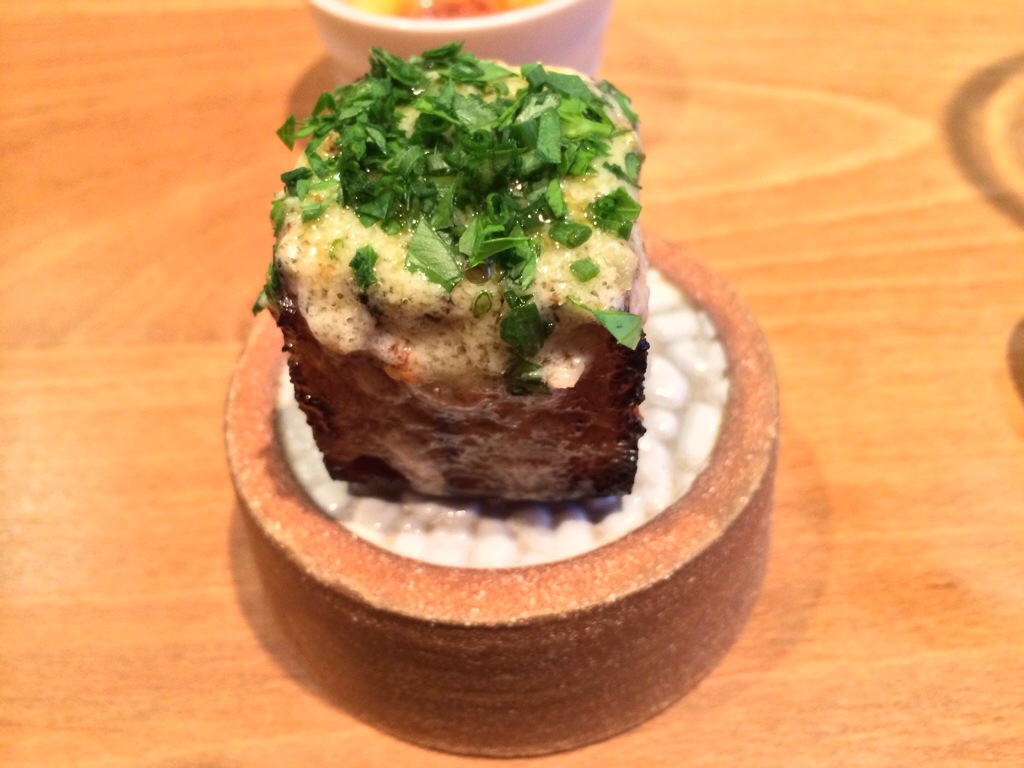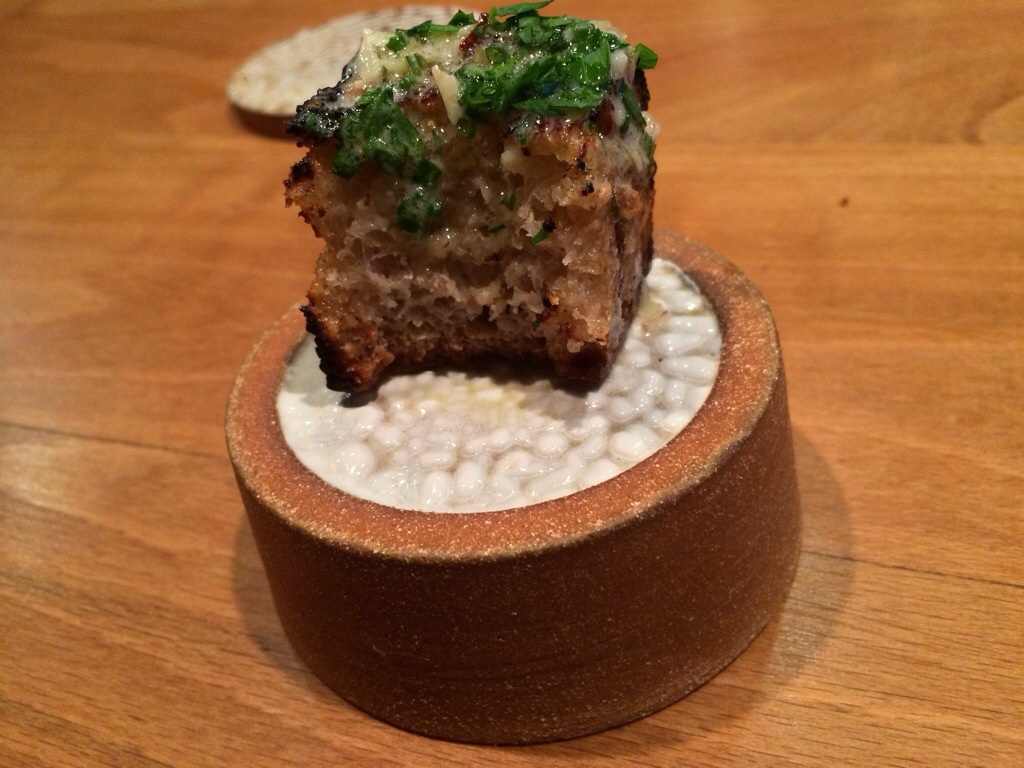 Inside Garlic Bread
Dijon Creme Brulee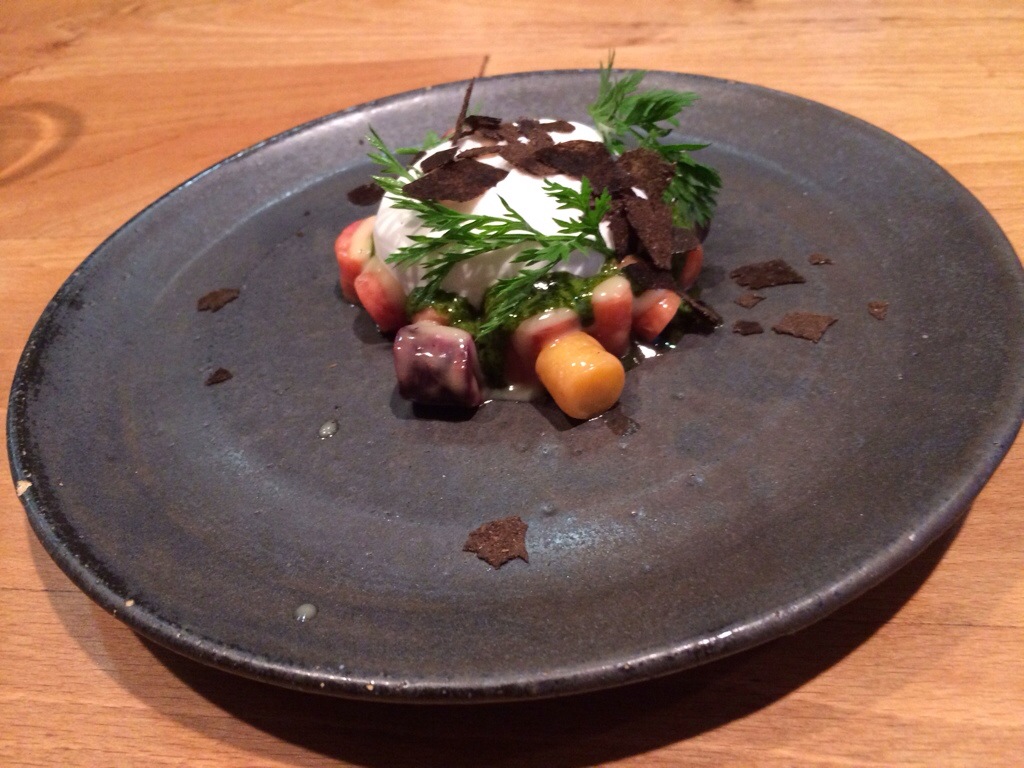 Carrots, Crispy Hay, Cultured Coconut Milk, white Chocolate Emulsion and Ramps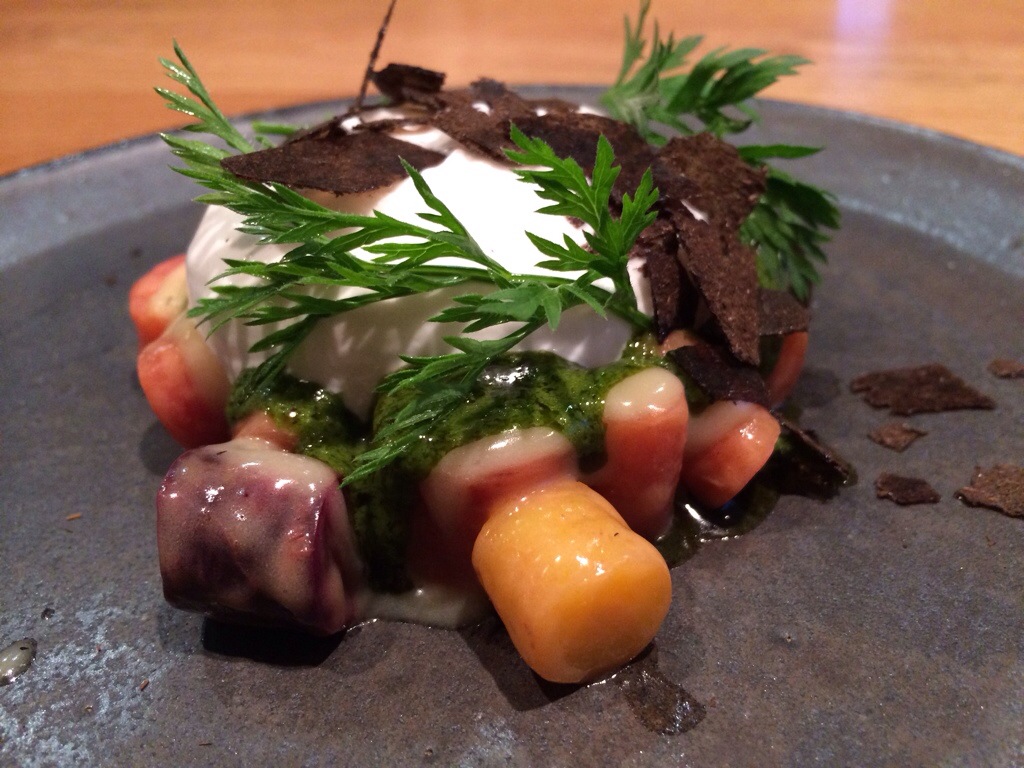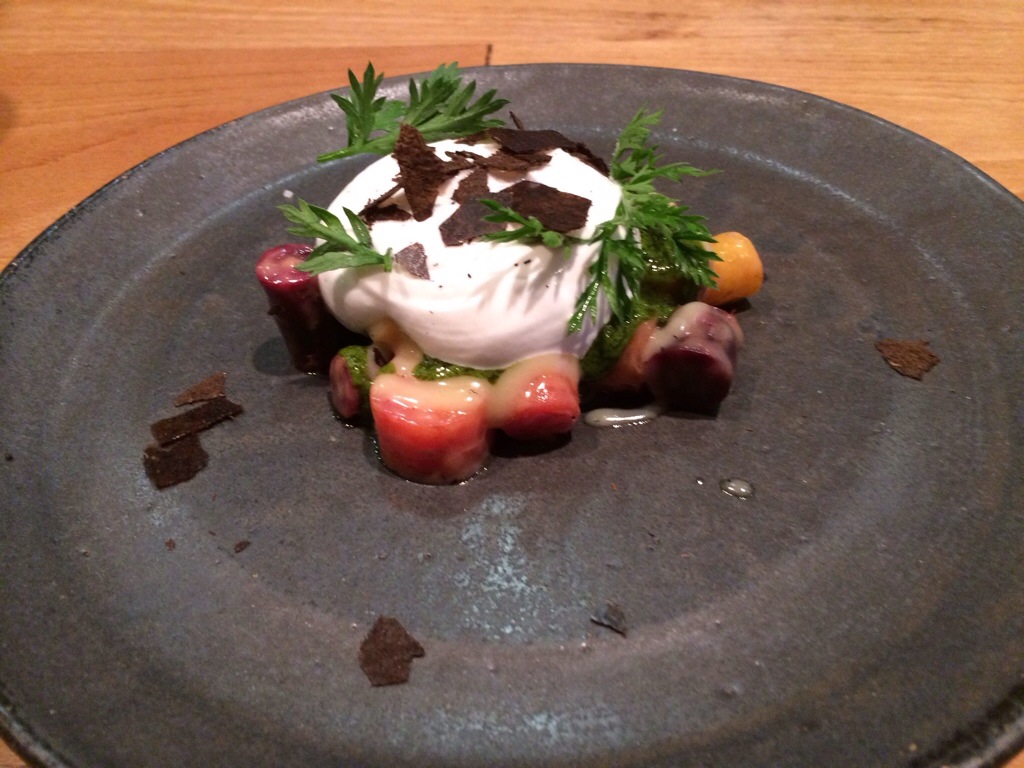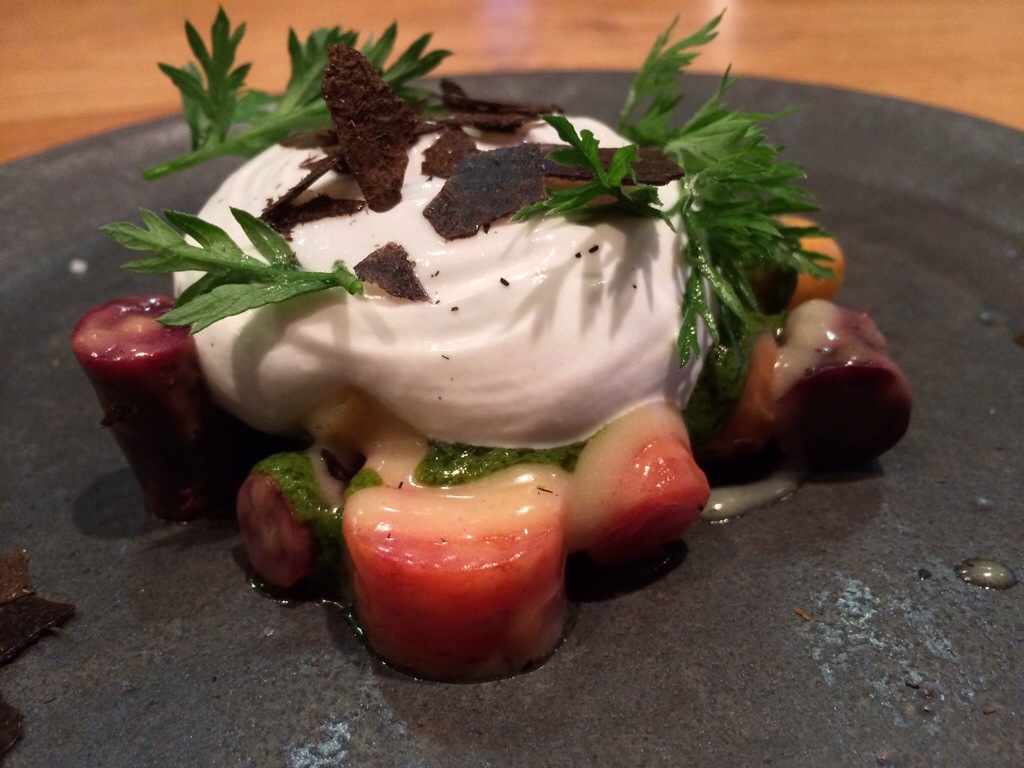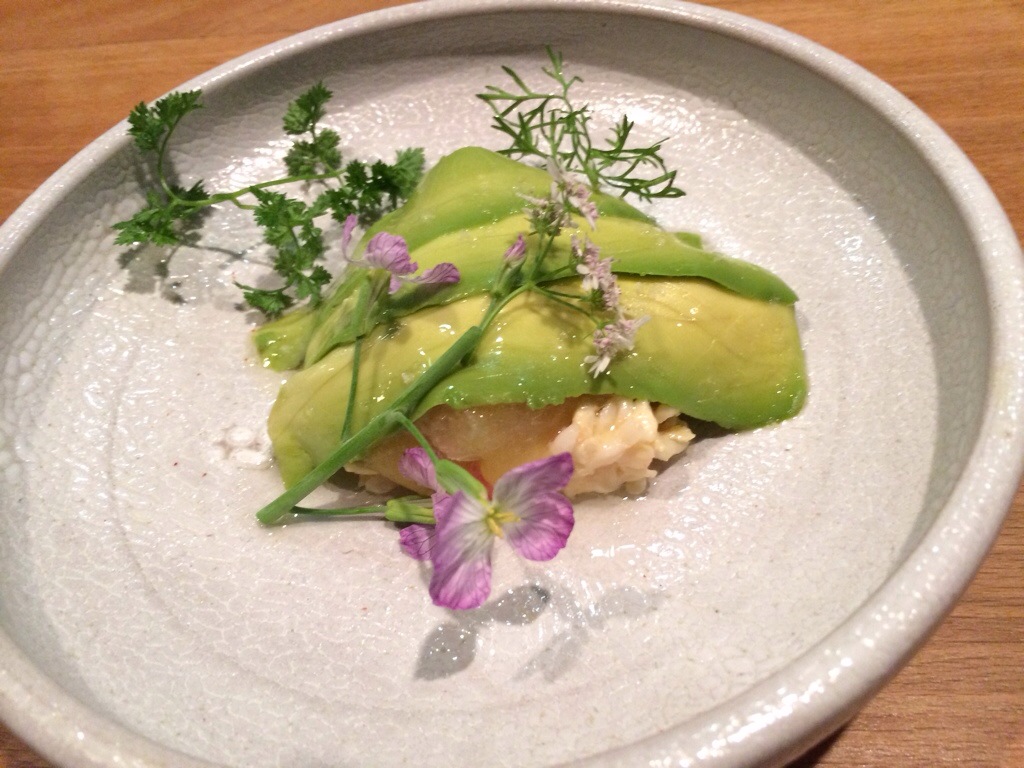 King Crab, Peruvian Ceviche, Avocado, California Citrus, Buckwheat Popcorn and Edible Flowers – my favorite dish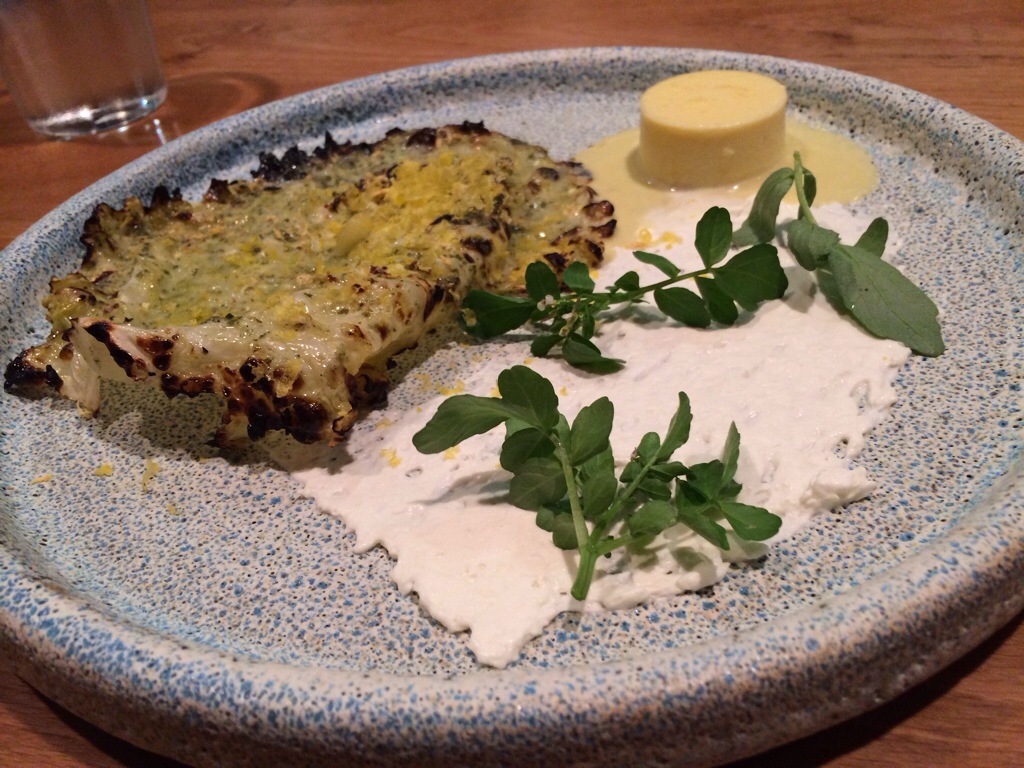 Grilled Cabbage, Smoke Almond Milk Anglaise, Miso Flan and Fennel Pollen – a fan favorite on his menu, who knew burnt cabbage could taste so good.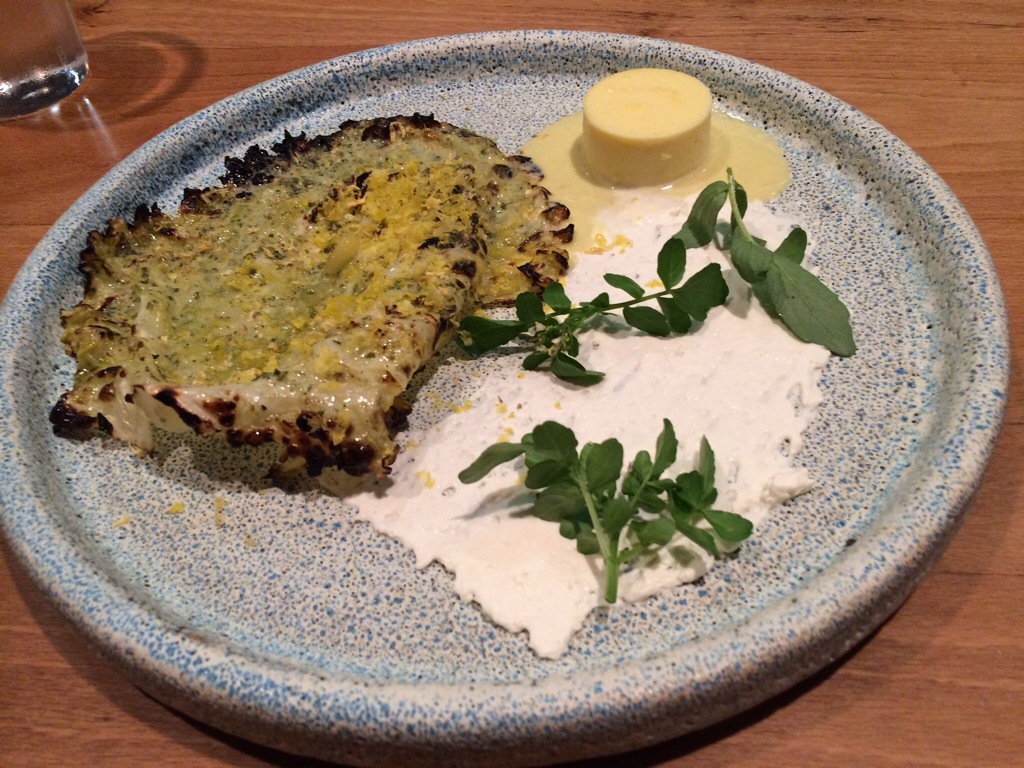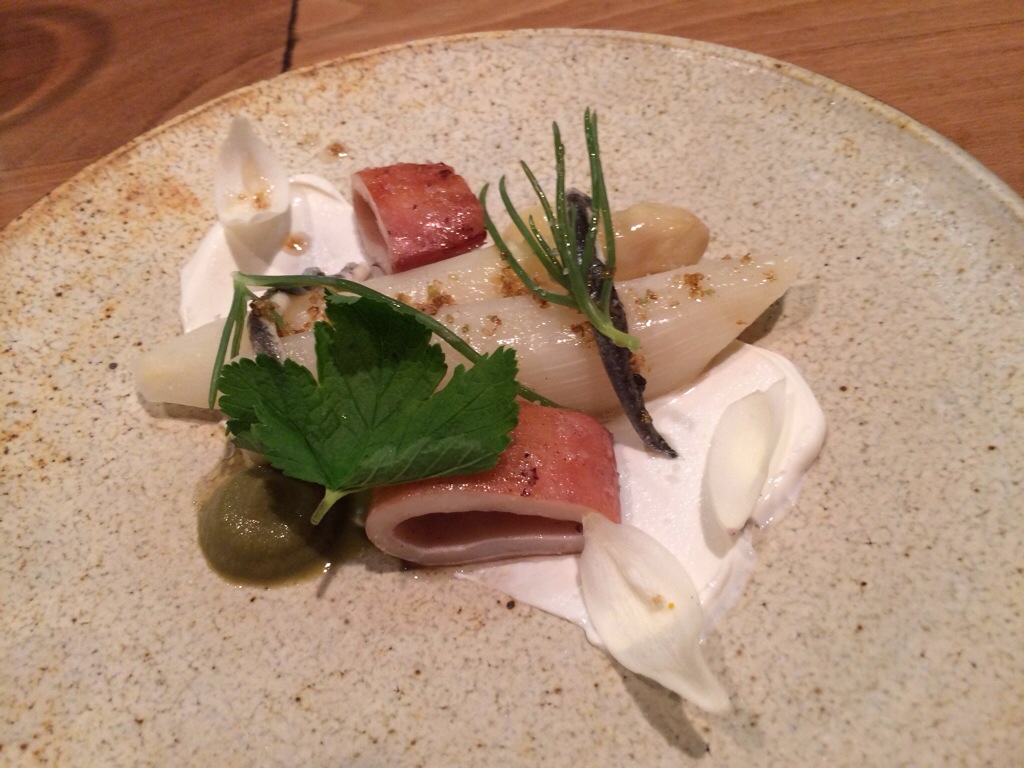 Confit Squid, White Asparagus, Caper Puree and Mascarpone (Supplement)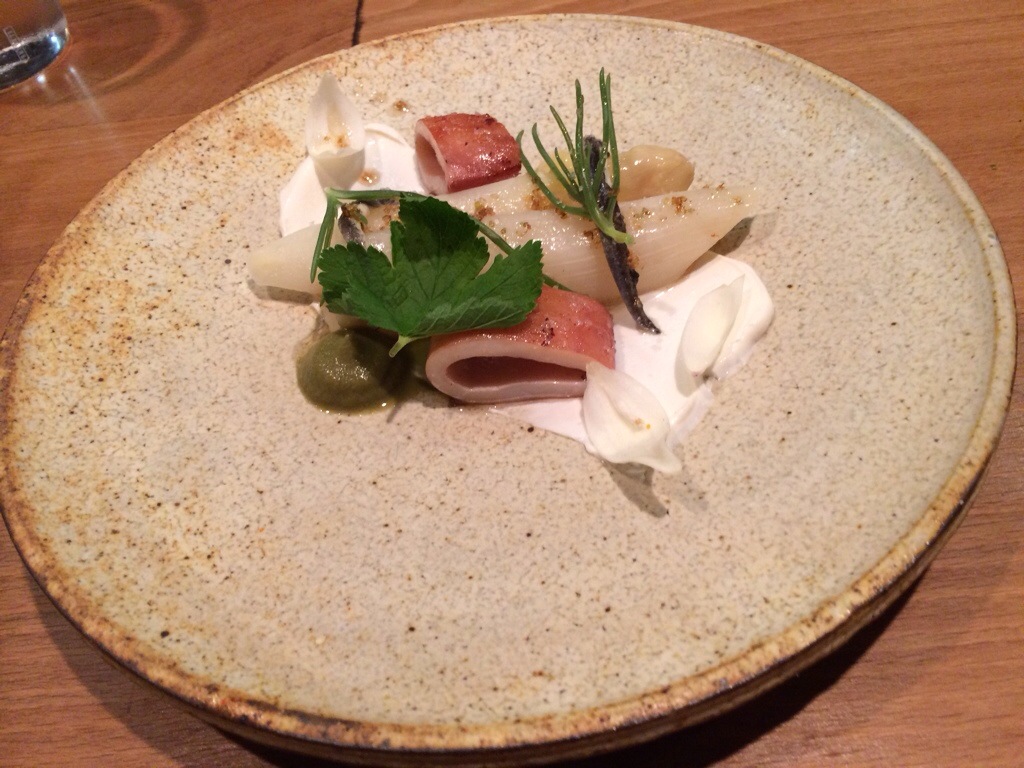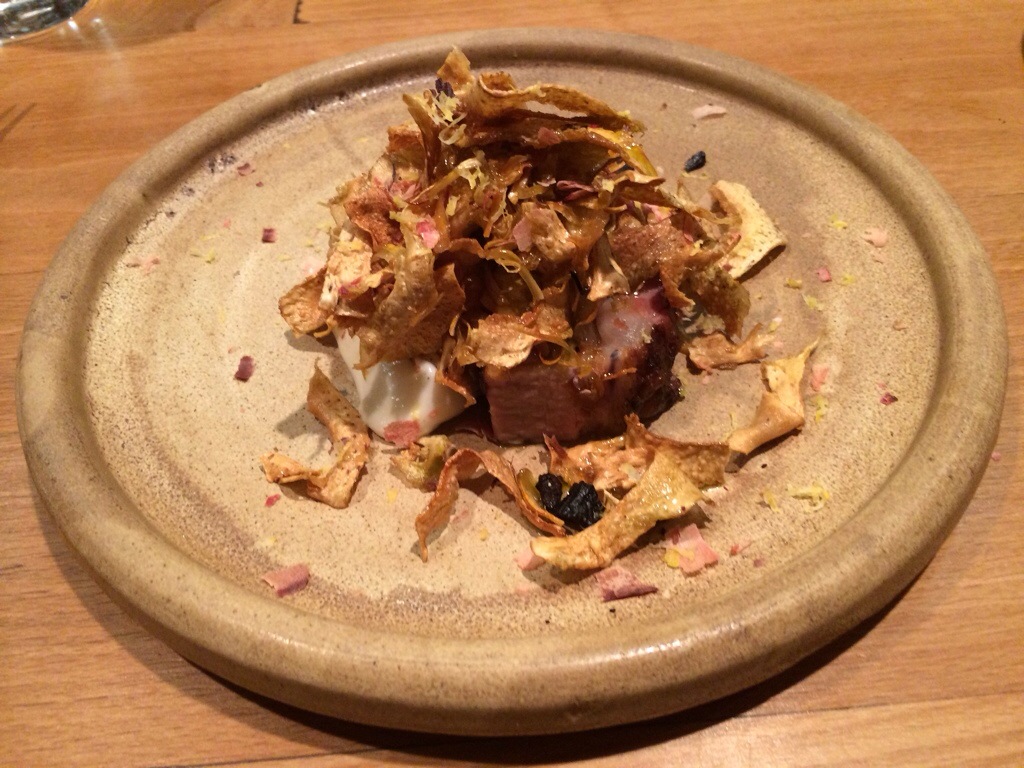 Veal Belly, Crispy Artichoke and Parmesan – Another amazing and interesting dish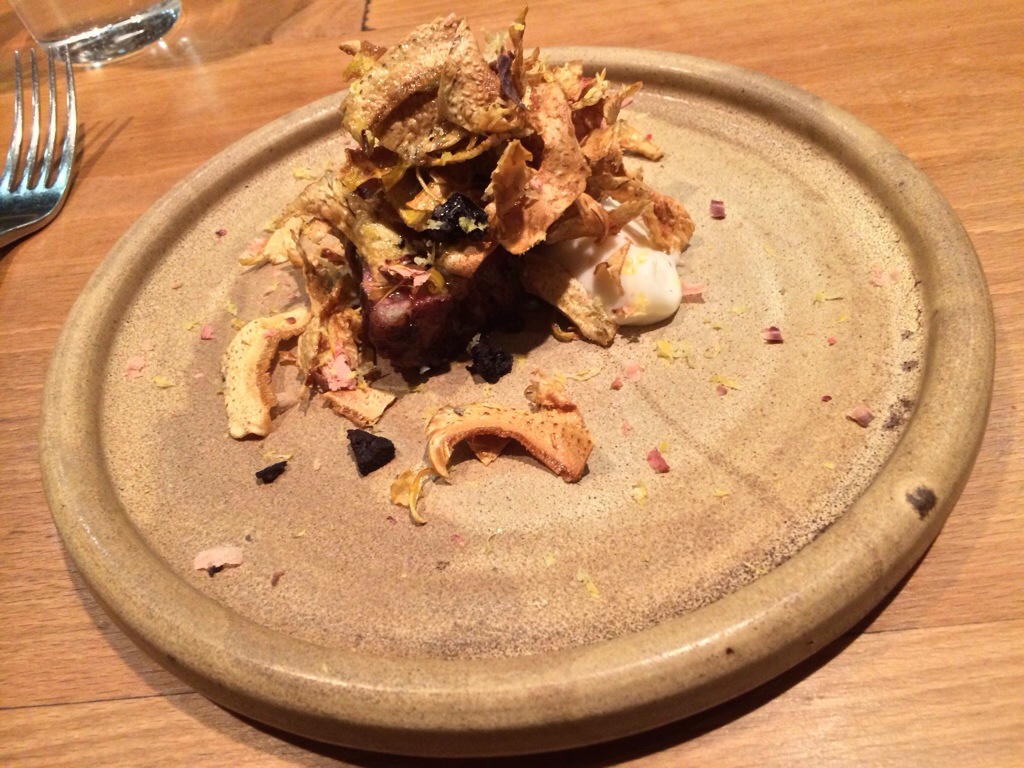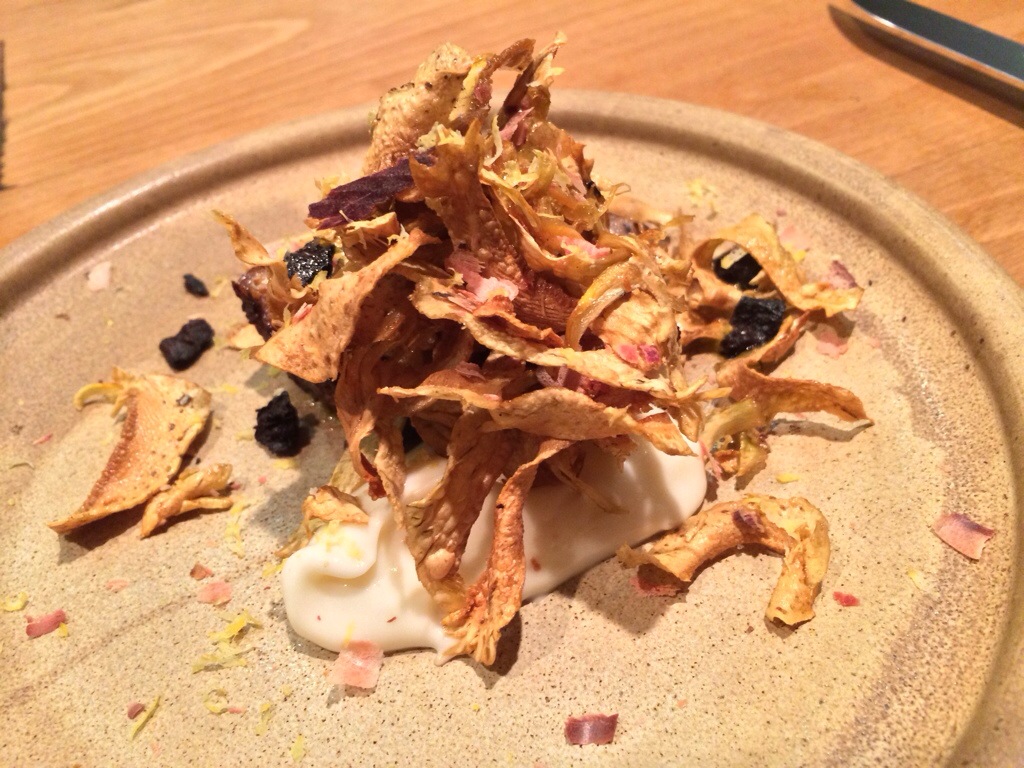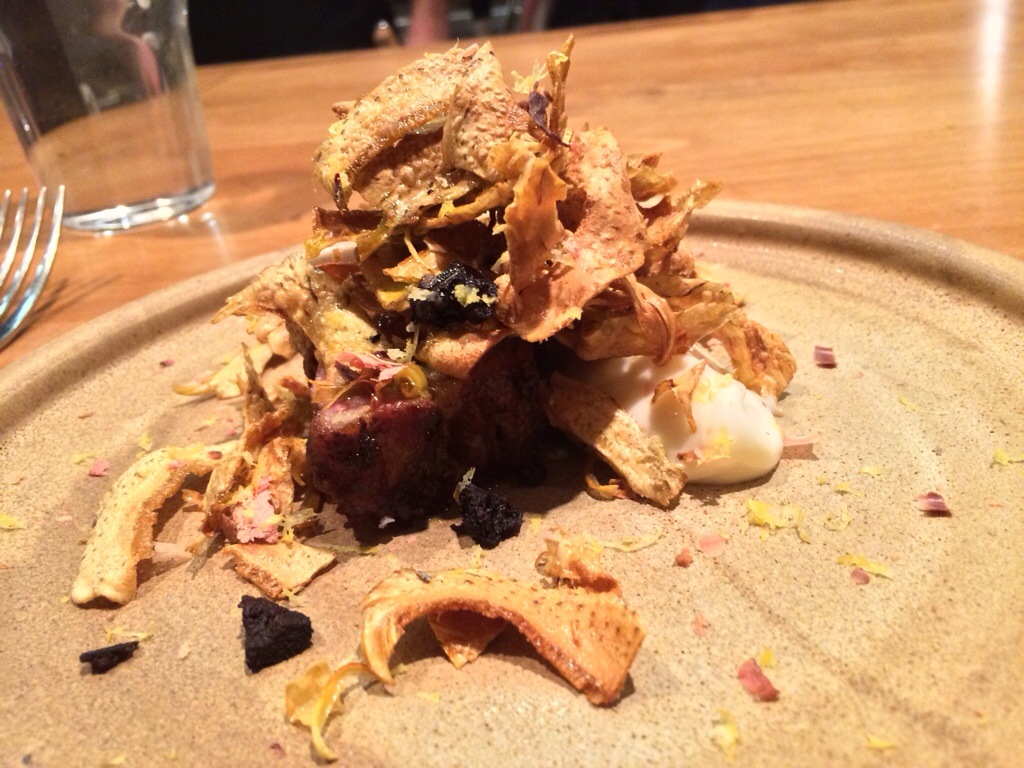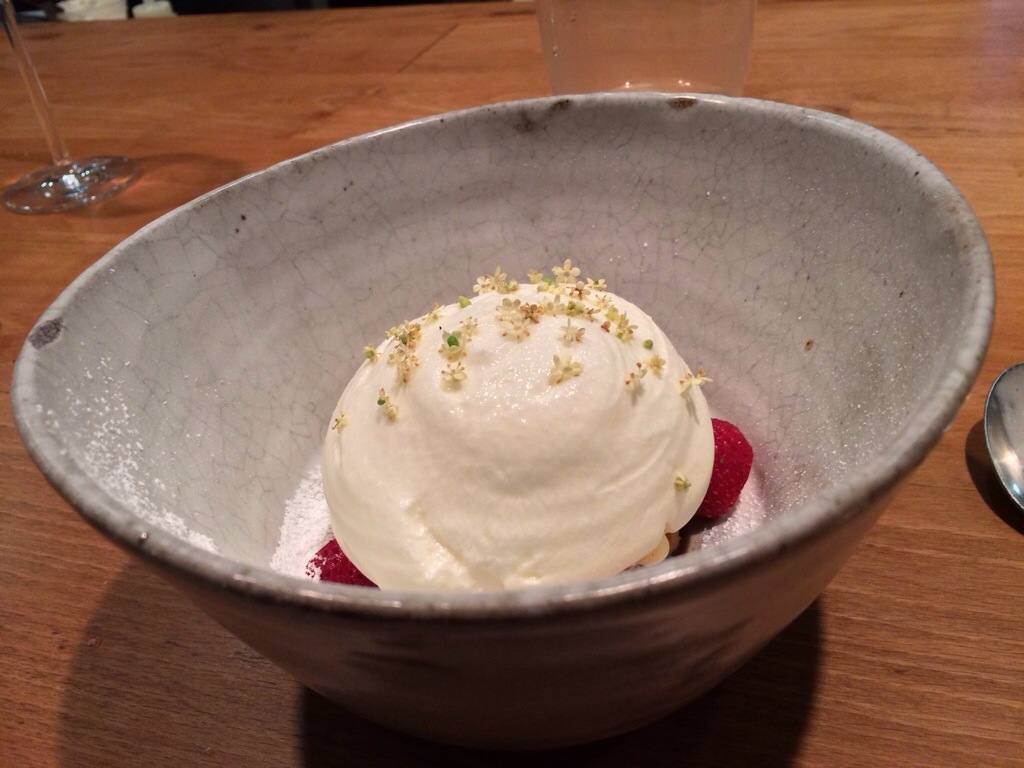 Strawberry Cake, Meringue, Chantilly, Fresh Strawberries and edible flowers – This dish was very complex with a lot hidden under the cream.  One of the best desserts I have had.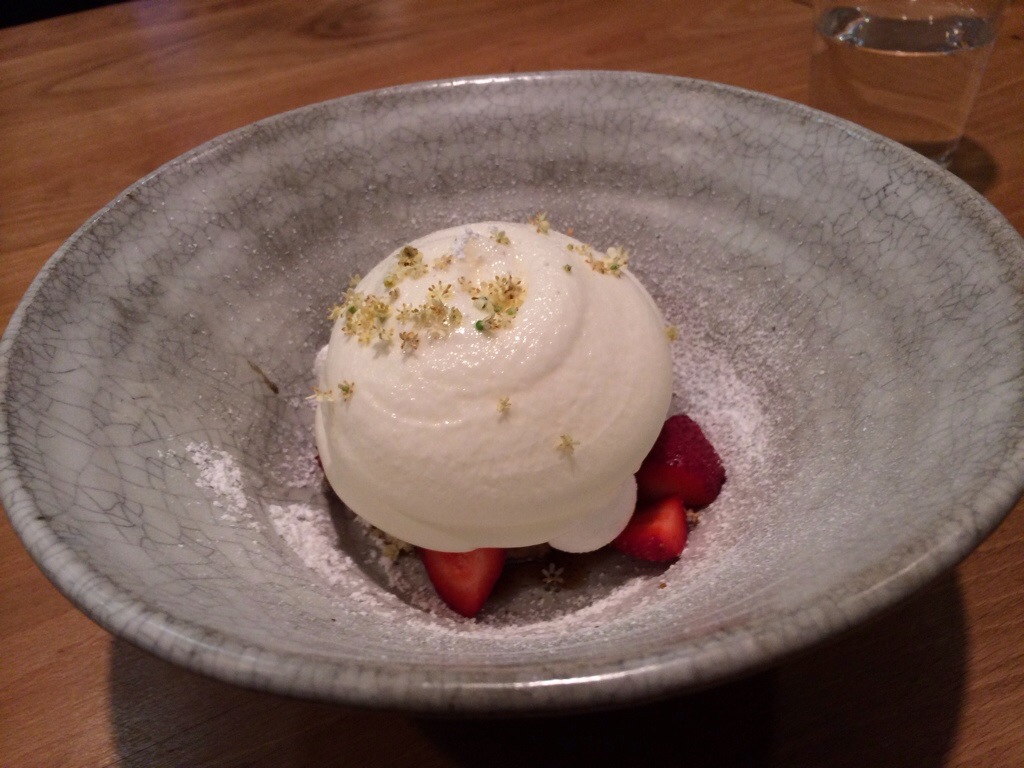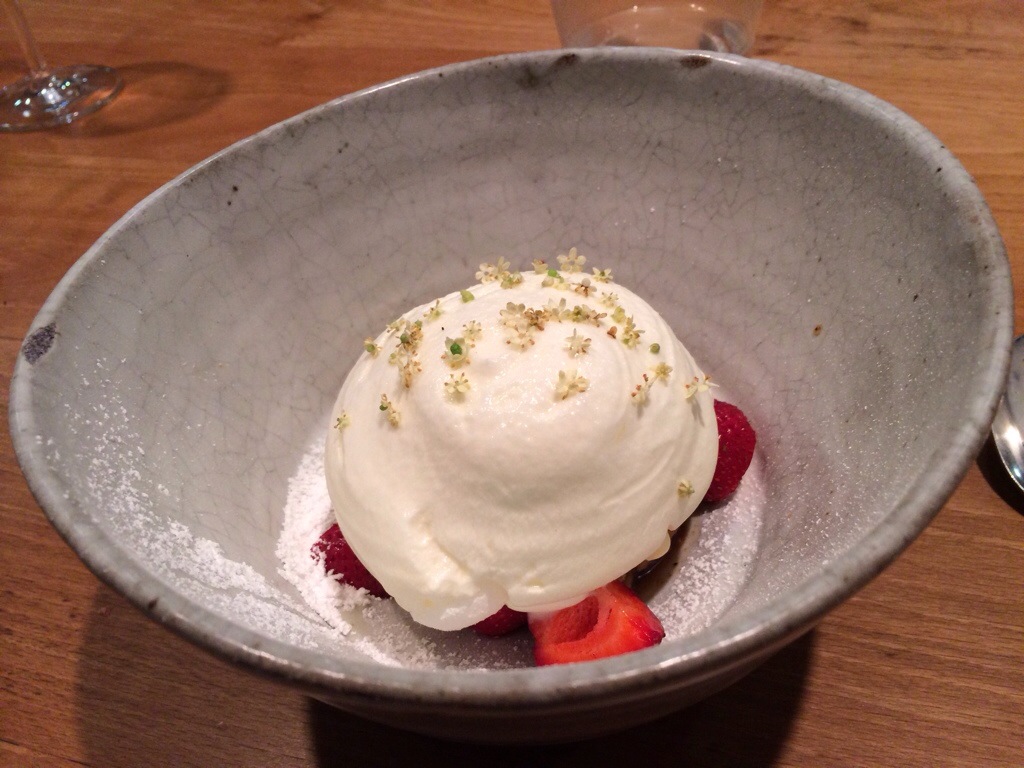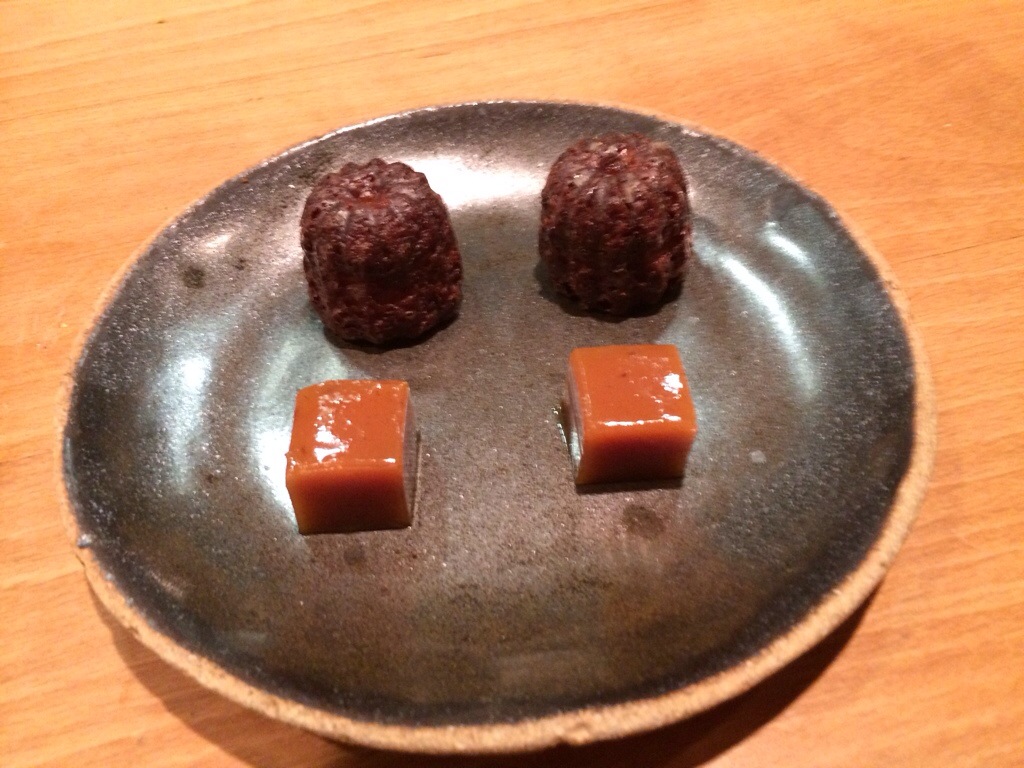 Mignardises – Garlic Caramel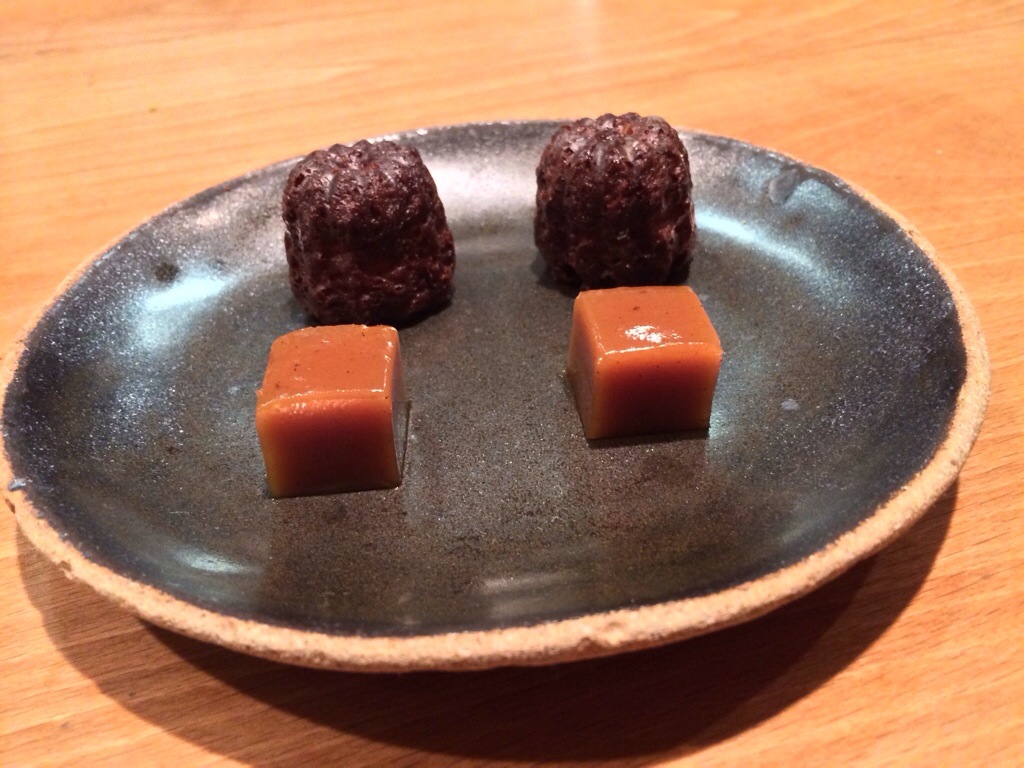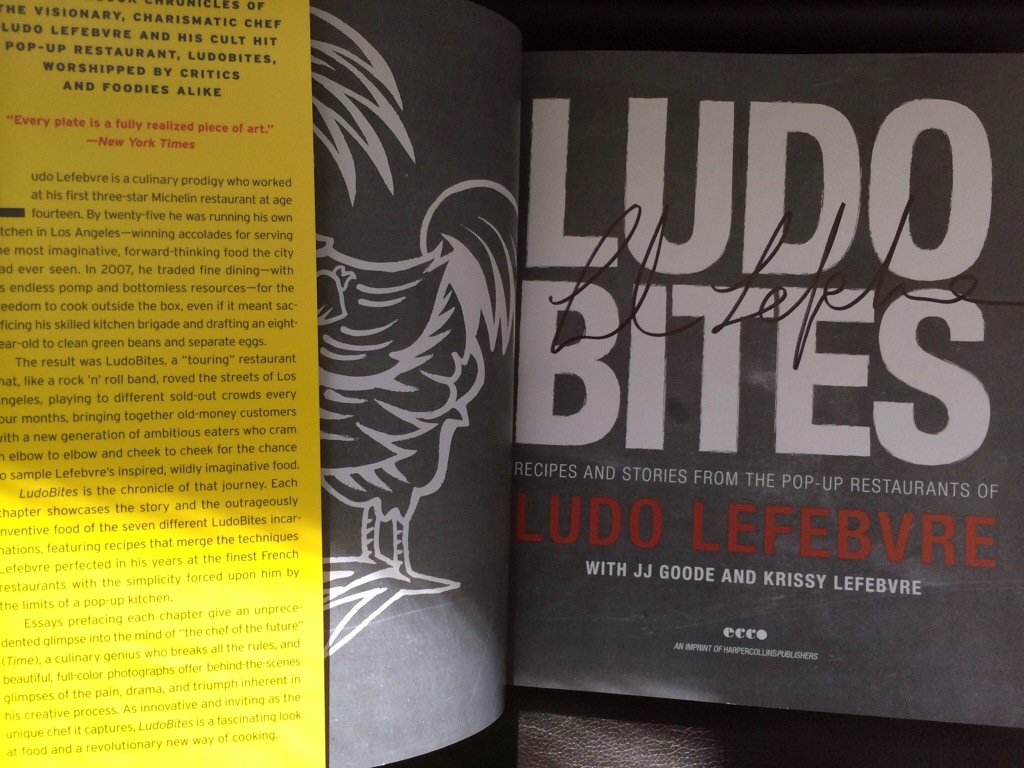 Signed copy of Ludo's book Ludobites