Top 10 Best Ramen in Orange County and Los Angeles
Ramen is by far my favorite type of noodle soup or noodles in general.  Not only are the noodles unmatched in taste, they can vary by region giving so much variety but the broth is also rich and complex like no other soup.  The main types of Ramen are Shio (Salt), Shoyu (Soy Sauce), Miso and Tonkatsu (Pork).  This list consists of the Top 10 Ramen Restaurants in Orange County and Los Angeles in order counting down from the #1 top spot.
1. Foo Foo Tei $$ – Hacienda Heights – (Best Overall) This is a highly controversial #1 Ramen pick but their #17 Nanchatte Tonkotsu Ramen with White Cream Soup will be like no other ramen you have ever had before.  The richness and complexity of the broth make this #1 in my Ramen book.  They also give you a lot of meat and vegetables included in their ramen where other places would charge you to add extra items.  Did I also mention they have 31 different kinds of ramen and over 46 different kinds of sides dishes. I wish I could have some now!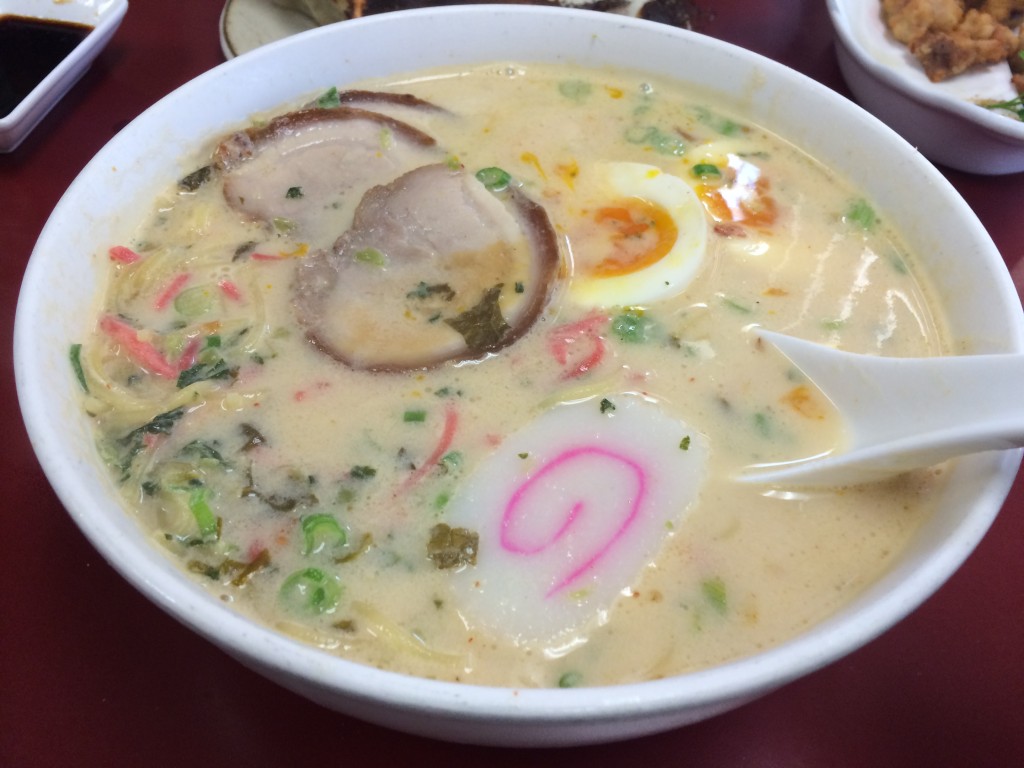 2. Tsujita LA Artisan Noodle $$ – Los Angeles, CA – (Best Tsukemen (Dipping Ramen)) Tsujita definitely takes pride in their craft and it shows in every bowl of ramen they serve.  They offer a Char Siu Tsukemen dipping ramen that is unmatched in the United States.  The thick style noodles give a great texture and chewiness and the gravy-like broth is so flavorful and savory you will crave it for days.  Tsujita also offers a Tonkotsu Ramen with thinner noodles and Tonkotsu broth so I give them added bonus points for offering two completely different style ramens and doing them both well.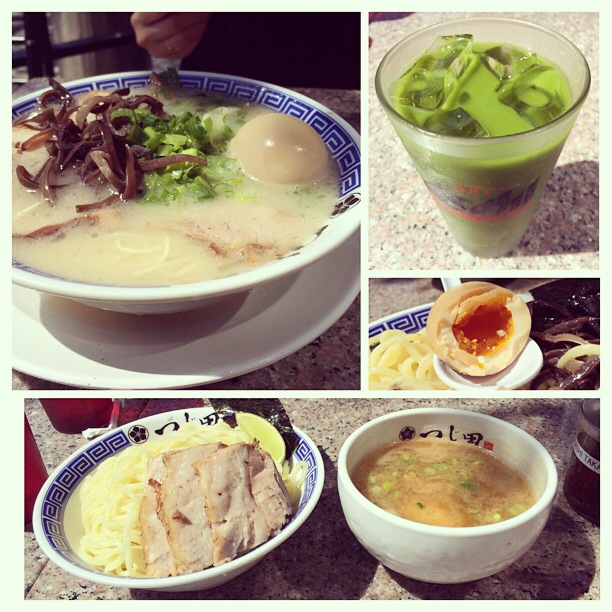 3. Silverlake Ramen $$ – Los Angeles, CA – This fairly new establishment to the Ramen scene has a Spicy Tonkatsu Ramen that is no joke.  The noodles are cooked al dente with skill and the creamy spicy broth boast a respectful flavor.  They also have a Pork Bun with Yuzu paste that just could be the best pork bun I have ever tasted, but grab some napkins because it's messy.
4. Shin Sen Gumi Hakata Ramen $$ – Multiple locations in Orange County and Los Angeles – Shin Sen Gumi was my 1st ramen love.  Hakata Ramen originated in Hakata City near Kyushu in Japan and the main characteristics is a white thick soup made from Tonkotsu Pork Bones.  They cook their broth for over 15 hours to make their unique soup broth.  Also Shin Sen Gumi lets you customize your noodles to your own taste on a piece of paper before you order including hardness of noodles, flavor of soup base and amount of oil.  Don't forget to order extra noodles for $1.00 if you haven't gotten your fill before you go.
5. Ramen Yamadaya $$ -Multiple locations in Orange County and Los Angeles – Tonkatsu Kotteri Ramen with Black Garlic oil and soft boiled egg plus add the Yamadaya topping is all you need to know.  Don't forget to ask for complimentary garlic to put in your ramen.  Did I mention they spend 20 hours cooking their pork bones to make that complex broth, Umami at its finest.
6. Santouka $$ – Multiple locations in Orange Country and Los Angeles – (Best Pork) – Santouka's Cha Shu Pork is unmatched in the ramen game.  It is made from a certain part of the pork back where where meat and fat are optimally balanced.  Order their Shio Ramen with Special pork to let your taste buds rejoice.  Santouka has locations in Japan, United States, Canada, Hong Kong, Taiwan, Singapore, Malaysia, Indonesia, Philippines and Thailand.
7. Ramen Kopan $$ – Fullerton, CA – This place was a new surprise to the Ramen game.  They offer a worthy Tonkatsu Ramen to the top 10 list.  They also have some delicious appetizers including fried baby squid, soft shell crab, Takoyaki and Garlic Edamame.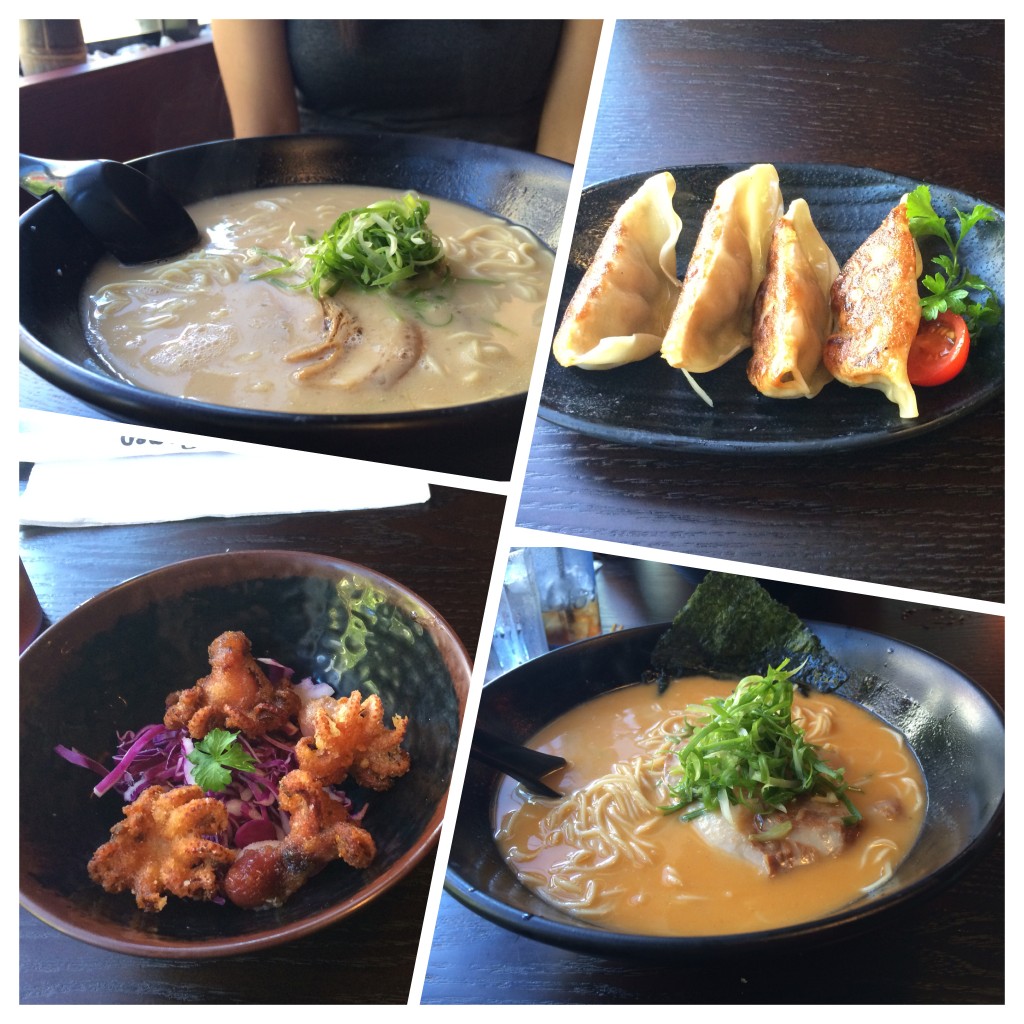 8. Kairakutei $ – Tustin, CA – (Best Value) – You can get a bowl of ramen with pork, egg, scallions, nori and ginger for only $6.50, now that's a deal considering most ramen places charging over 8.00 per bowl and charging you extra for any toppings.  They also have lunch special combinations which make it an even better value pairing your ramen with the likes of Chicken Karaage, Katsu Curry, Chicken Teriyaki, Gyoza and Fried Rice.  More ramen for less cheddar makes my tummy happy, just don't forget it's cash only!
9. Mentatsu $$ – Costa Mesa, CA -This place makes the list not for their regular ramen but for their un-traditional offerings.  Mentatsu offers a Mabo Tofu ramen that is just short of breathtaking, thick rich spicy Mabo Tofu layered over a bed of hot noodles covering a steaming broth of Ramen Soup, try it and you won't be disappointed.  They also offer some refreshing cold noodle dishes including their Banbanji which is cold noodles in a spicy sauce with chicken, cucumbers and shredded scrambled egg.
10. Daikokuya $$ -Multiple locations in Los Angeles – Daikokuya is a common staple in the Ramen community.   They shine by offering combinations with their ramen including a delicious Teriyaki Eel bowl as well as Chicken Donburi, Ikura, Tuna Sashimi and Salmon Sashimi.
Bonus:
Totto Ramen $$ – New York, NY – In my opinion the best ramen I've had on the east coast.  This place is small so be prepared to wait.  But it will be worth it to try their homemade noodles customized for each different ramen.  The Totto Spicy Ramen and Totto Chicken Paitan Ramen are unmatched.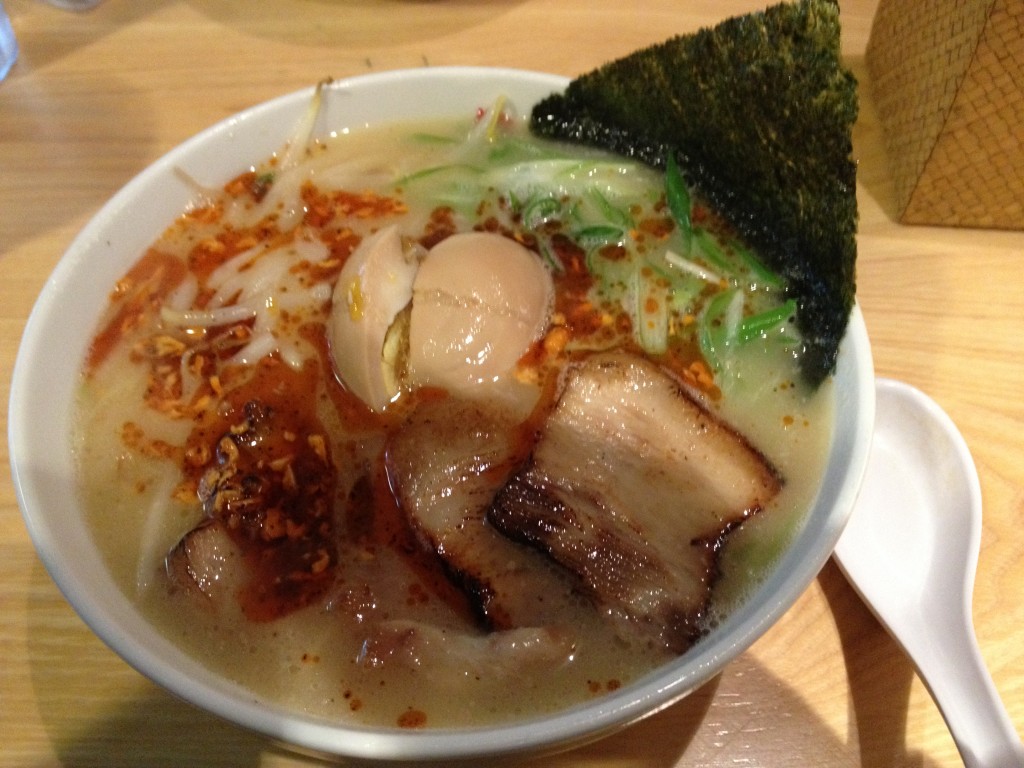 Ippudo NY $$$ – New York, NY – I would describe Ippudo as a high-end ramen restaurant offering different draft beers, sakes, wines and cocktails.  The ramen is a silky Tonkatsu broth with Pork Loin Chashu, Kikurage Mushrooms, Menma, Red Pickled Ginger and Scallions.  They have an extensive list of menu items besides ramen but don't leave without trying an order of Hirata Pork Sticky Buns.  Make sure to bring your wallet because with drinks, appetizers and extras you can easily spend $50.00 or more.