Top 10 Shabu Shabu/Hot Pot Restaurants in Orange County
Shabu Shabu is a Japanese dish featuring thinly sliced meats and vegetables dipped in a boiling broth.  These types of restaurants have been all the rage these days offering many types of variations and varieties.  This includes different types of meats and seafood, broths and dipping sauces as well as noodle soup or porridge after finishing the main meal.  I grew up eating home cooked Shabu Shabu and when I had Shabu Shabu in restaurants it didn't really compare.  I felt there was no reason to eat Shabu Shabu at a restaurant if the home cooked meal was of better quality.  Now with so many Shabu Shabu restaurants popping up and the quality significantly improving people of all ages and origins can enjoy it.  Shabu Shabu restaurants are offering different styles and variations so everyone can have their own favorite.  Here are the top 10 Shabu Shabu restaurants in Orange County.
Shinobu Shabu Shabu $$ – Westminster, CA – Shinobu Shabu offers great quality meat and great service. Besides the superb cuts of meat and friendly service they have several things that make them shine above other Shabu Shabu restaurants. If you want to eat at a Shabu Shabu restaurant in a big group that is sometimes difficult and you cannot interact with your whole party because a lot of Shabu Shabu restaurants offer only a bar style setting.  Shinobu offers a bar as well as tables to accommodate for large parties and allows for a better social setting.  Shinobu also offers a decent amount of Beer and Sake.  Also save room for dessert and try their very own Asian Funnel Cake, Black Sesame Ice Cream or Mochi Ice Cream.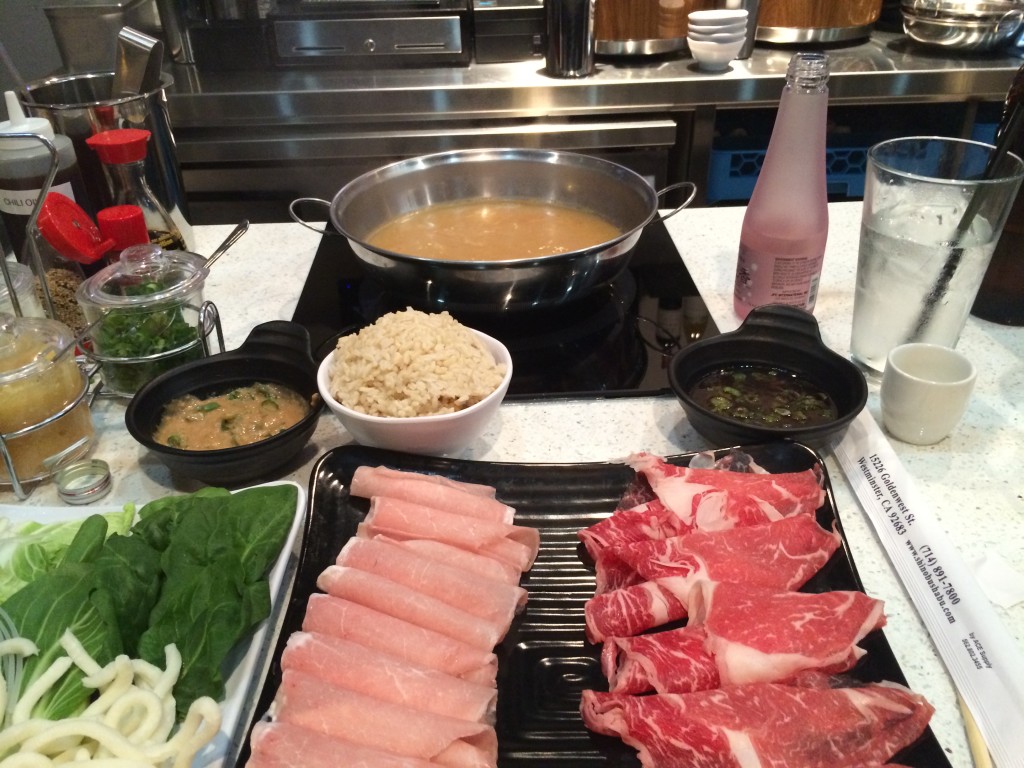 Shabu Shabu Bar $$ – Santa Ana, CA – Shabu Shabu Bar offers the best quality meats including Wagyu, Kobe, Prime and Ribeye Beef as well as Kurobuta Berkshire Pork and Jidori Wild Chicken. They have delicious Goma Sauce where you crush your own sesame seeds and Ponzu Sauce. Also don't forget to check in on Yelp because they usually have an offer available.
http://www.yelp.com/biz/shabu-shabu-bar-santa-ana-3
Little Sheep $$ – Irvine, CA – Little Sheep is Mongolian Hot Pot. They have a unique aromatic broth using fresh ingredients such as Goji Berries, Black Cardamom, Ginseng and other herbs which vary greatly from the normal Shabu Shabu broth. They also offer some delectable handmade noodles that shine above any of the other noodles offered from other Shabu Shabu restaurants.  They have a multitude of items to choose from ala carte that you can add to your meal including Fish balls with Fish Roe inside, Kumbocha and Lotus Root to name a few.  They also offer a sauce bar to create your own sauce to your taste.  Little Sheep has a lunch combo special for 9.95 which is a steal for all the items included and compared to other lunch combos that usually start at 14.95.
http://www.littlesheephotpot.com/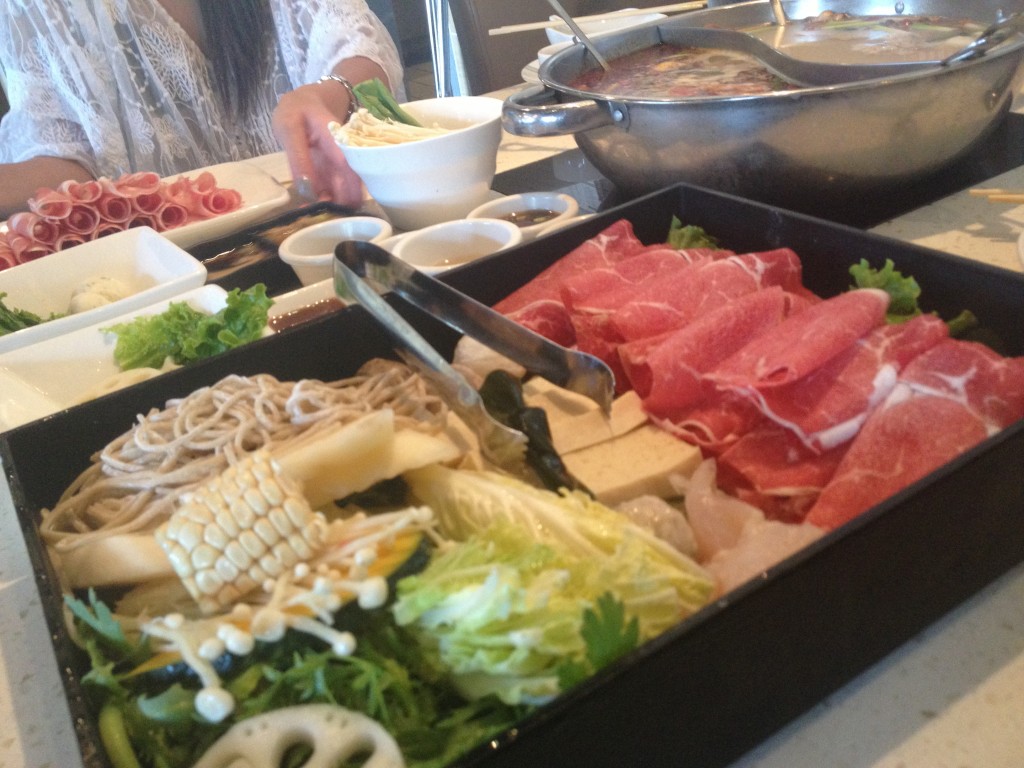 Little Sheep's Lunch Combo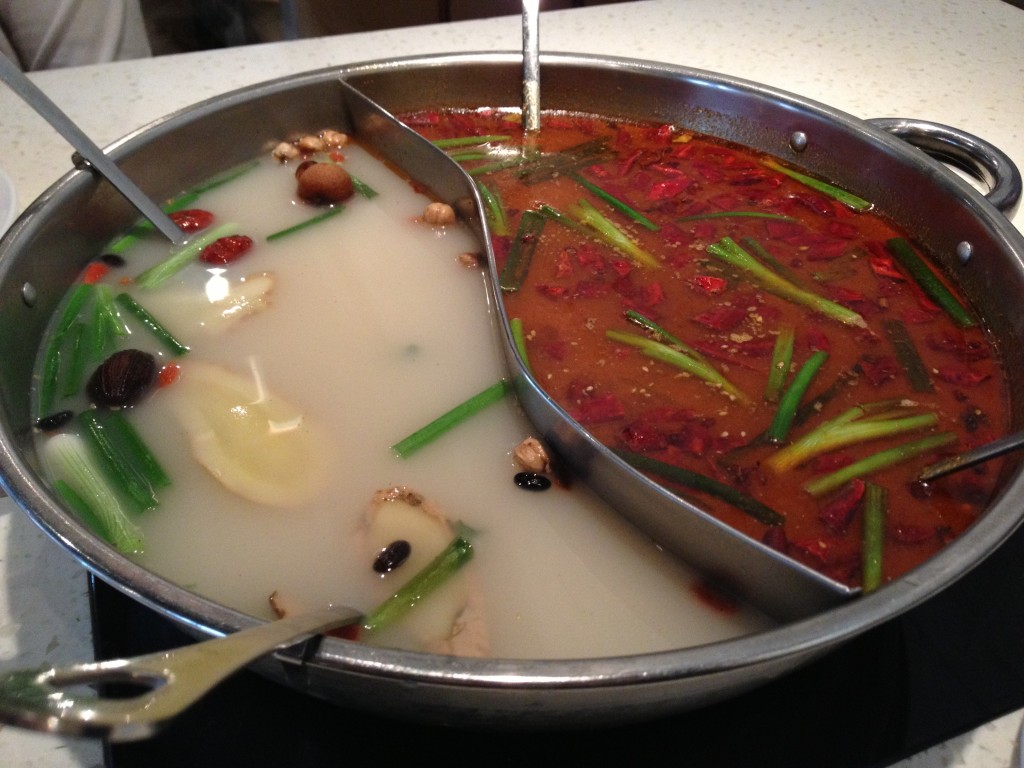 Little Sheeps Yin and Yang Broth
Paper Pot Shabu $$ – Diamond Bar, CA – Paper Pot Shabu offers a unique way to hold their broth, it's actually in a real paper pot and they use conduction heating to boil the broth. Paper pot is not their only gimmick they offer high quality ingredients as well. They offer a Bulgogi Shabu Shabu which is Korean marinated beef that was divine.  Paper Pot's Wow combo is also interesting which includes Sausage, Wontons, Rice Cake, Fish Cake and Ramen.
http://www.yelp.com/biz/paper-pot-shabu-diamond-bar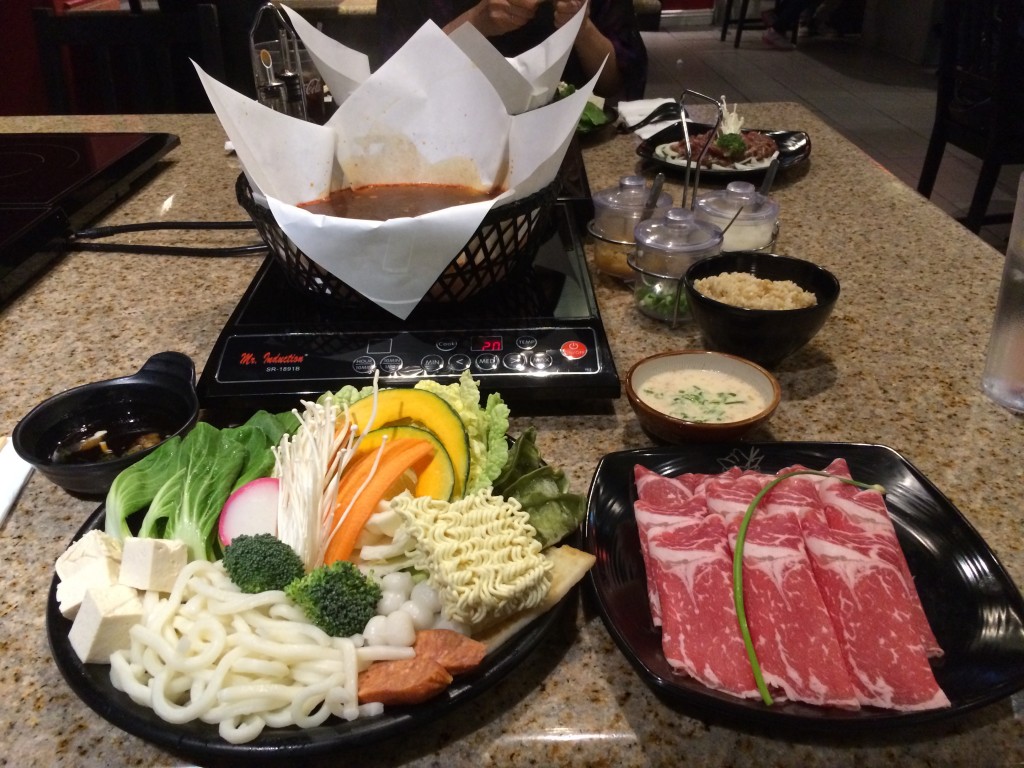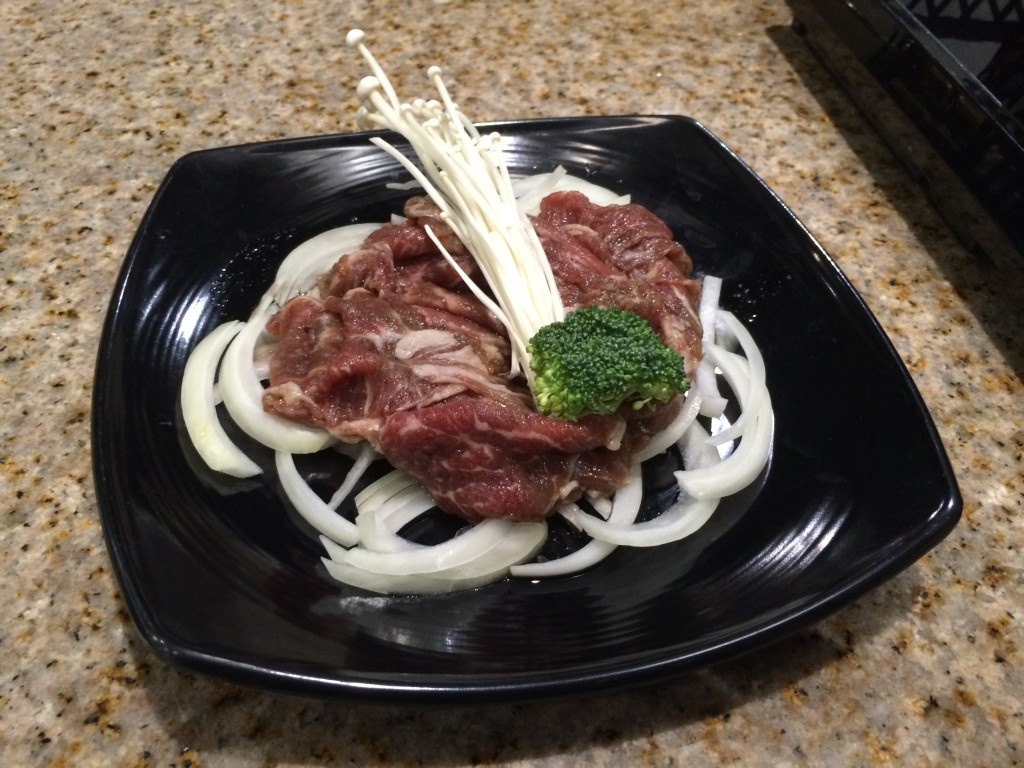 PaperPot Shabu's Bulgogi
SWSH Shabu Shabu $$ – Irvine, CA – SWSH gets its name by the sound it makes when you "swish" your meat through the broth with your chopsticks. SWSH's interior has a modern contemporary look including both tables and bar seating. They also have an extensive Sake menu.  Make sure to leave room for dessert because SWSH offers a Green Tea White Chocolate Fondue with fresh Fruit and Cake.
Boiling Point $$ – Irvine and Garden Grove, CA – Boiling Point is Taiwanese Style Hot Pot and it's a little different than other Shabu Shabu or other Hot Pot Restaurants because they serve all the ingredients already inside the bowl already cooking when they bring it out. So your pot comes heaping with the combo of meat and veggies that you order. They offer combos such as House Special, Seafood and Tofu, Korean Bean Paste, Beef, Pomelo Flavor, Taiwanese Spicy, Japanese Miso, Thai and Curry Fish Ball.  These combos include interesting ingredients such as Fermented Tofu, Clam, Quail Egg, Pork Blood Cake, Pork Intestine, Octopus, Cuttlefish Ring, Fuzhou Fish Ball, Lobster Fish Ball, Pork Belly, Pear, Fried Tofu Skin and Lotus Root.  They also offer a Snow Flake Ice Dessert, Macaron Ice Cream  and a variety of Milk Teas, Sodas and Slushies.
http://www.bpgroupusa.com/Company.html
Tabu Shabu $$ – Costa Mesa, CA – Tabu Shabu offers Snake River Farms and Meyers Farms Beef. Most Shabu Shabu restaurants offer a soup at the end of your meal that the server will make for you with your noodles. Tabu Shabu takes it to another level with their savory egg porridge.  Tabu Shabu also offers low carb or paleo on request if needed.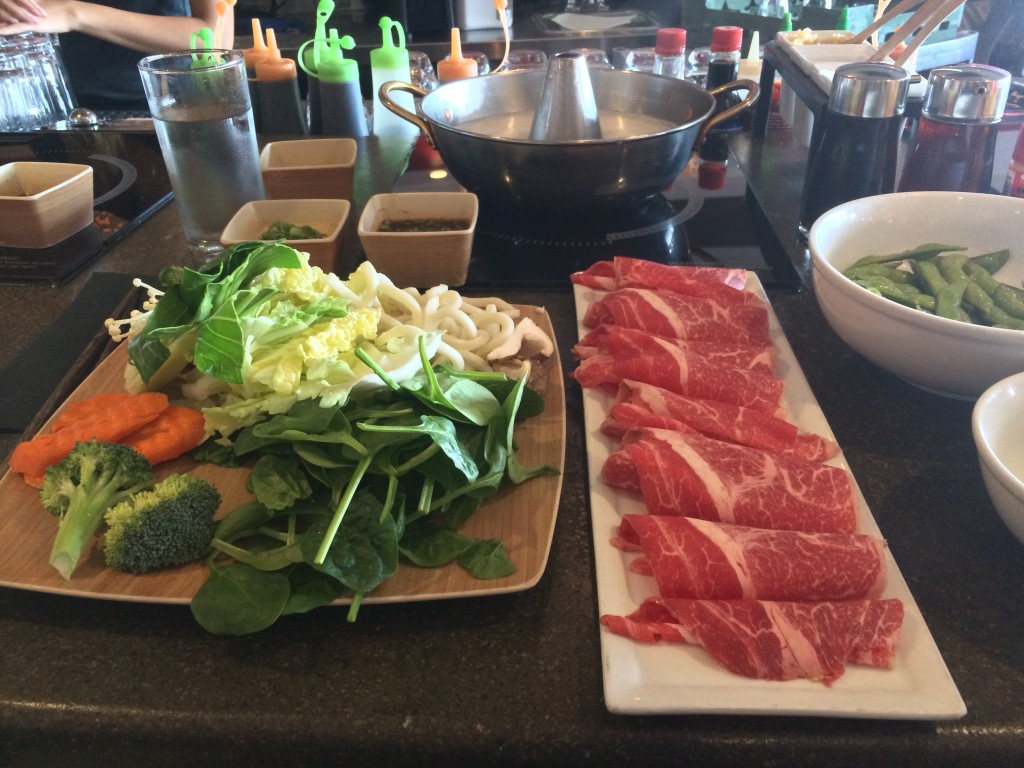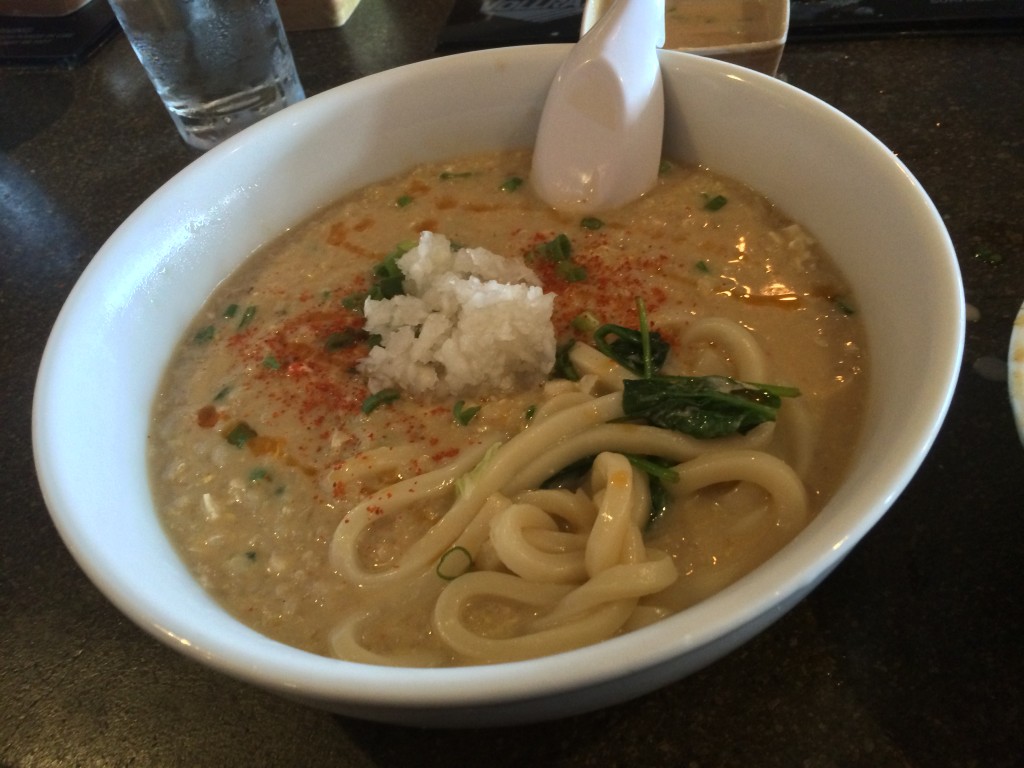 Tabu Shabu's Egg Porridge
8 .Mokkoji $$ – Irvine, CA – Mokkoji has some unique offerings including a option for Beef Belly which I haven't seen offered at Shabu Shabu before, get ready for some fatty meat.  You can add on a Porridge option at the end including a Squid Ink Porridge.  They have both Goma and Ponzu sauces and their Ponzu is a very good tangy citrus ponzu.  On their tofu Mokkoji is branded on which provides great presentation for their Shabu Shabu.
http://www.yelp.com/biz/mokkoji-shabu-shabu-bar-irvine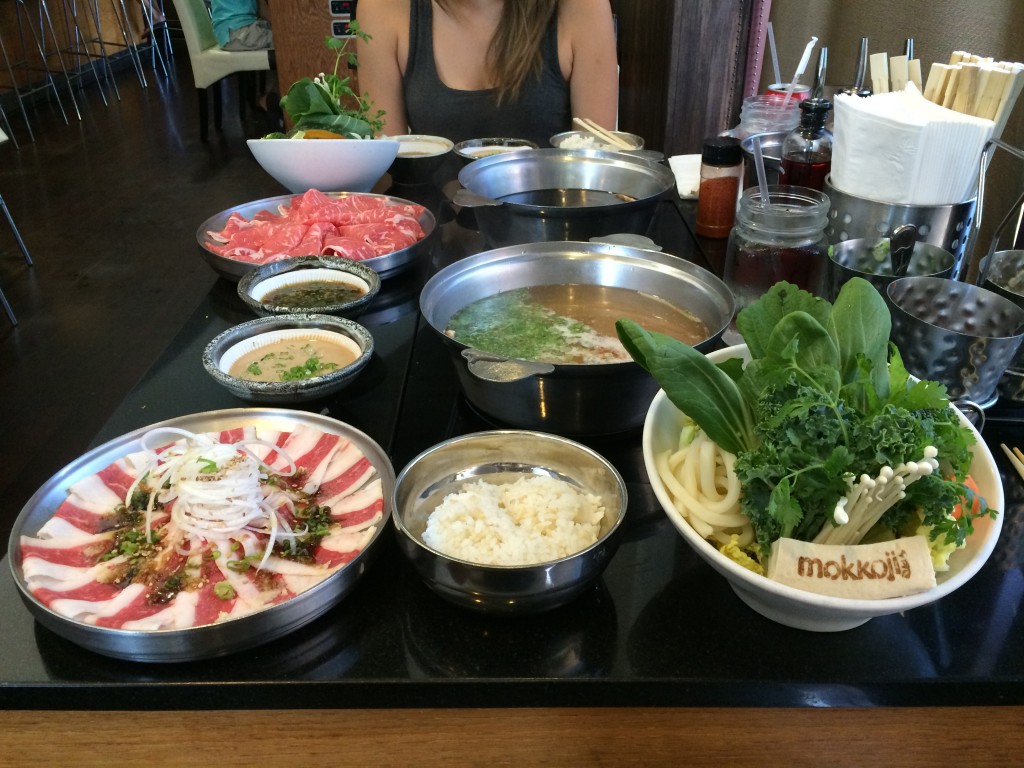 East West Shabu Shabu $$ – Garden Grove, CA -East West Shabu Shabu was one of the OG's to the Shabu Shabu game. They started before most Shabu Shabu restaurants in OC and on this list. They have always provided solid meats and sauces at a reasonable price.
http://www.yelp.com/biz/east-west-shabu-shabu-garden-grove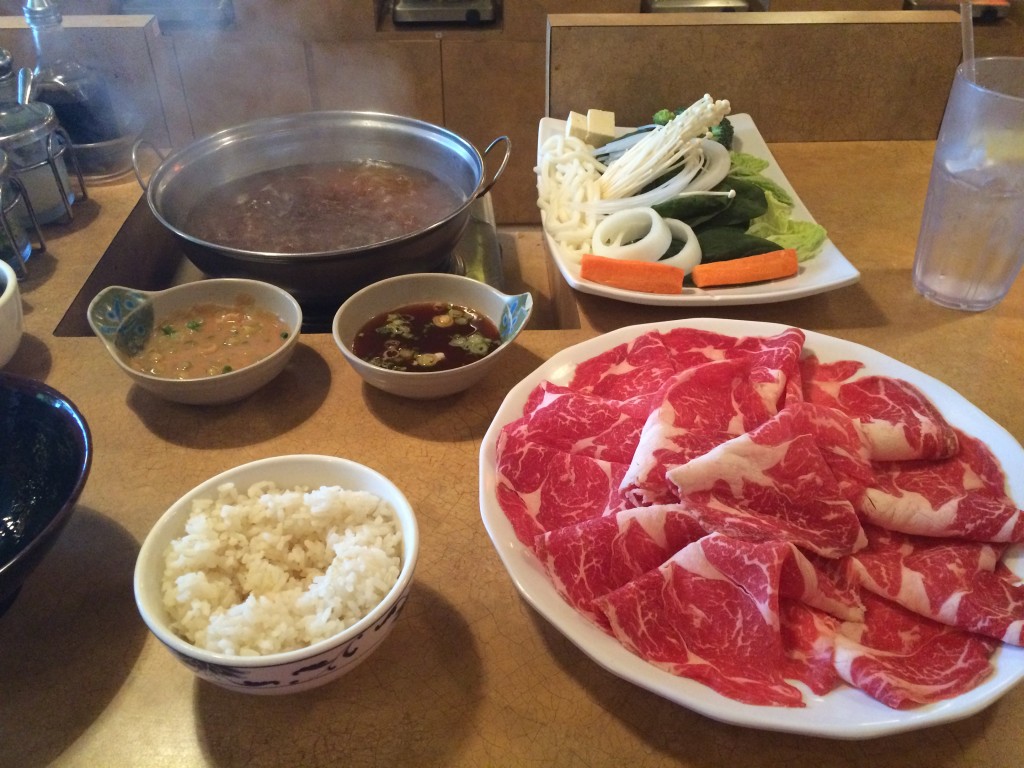 California Shabu-Shabu/Cal Shabu $$ -Fountain Valley and Costa Mesa, CA – Cal Shabu is another one of the original Shabu Shabu restaurants in Orange County with 2 different locations. They have some unique artwork on their walls at their Costa Mesa location and Salmon roses have been spotted at their Fountain Valley location. They have affordable lunch specials and the option of two item combinations.
http://www.californiashabushabu.com/