Top 12 Healthy Restaurants in Orange County
It's the new year and you have been lagging on that diet to shed those holiday pounds.  But who wants to eat steamed vegetables with a wheat grass smoothie.  Here is the list of the top 10 best places to eat (in no particular order) that taste great but will keep you looking lean and mean.  All these restaurants listed have healthy options that aren't lacking in the taste department and will keep you coming back for more.  Here is to a healthy and DELICIOUS 2015.
1. Chicken Maison $$ – Santa Ana and multiple locations in Los Angeles, CA – Chicken Maison offers healthy Mediterranean Cuisine. Try their Spicy Lemon Garlic Rotisserie Chicken and prepare to be amazed. The rice, Potato Salad and spicy sweet garlic are great sides to include on the combo meal.  Don't forget to ask for       that extra Garlic Sauce for your Chicken and Pita bread for a flavor explosion.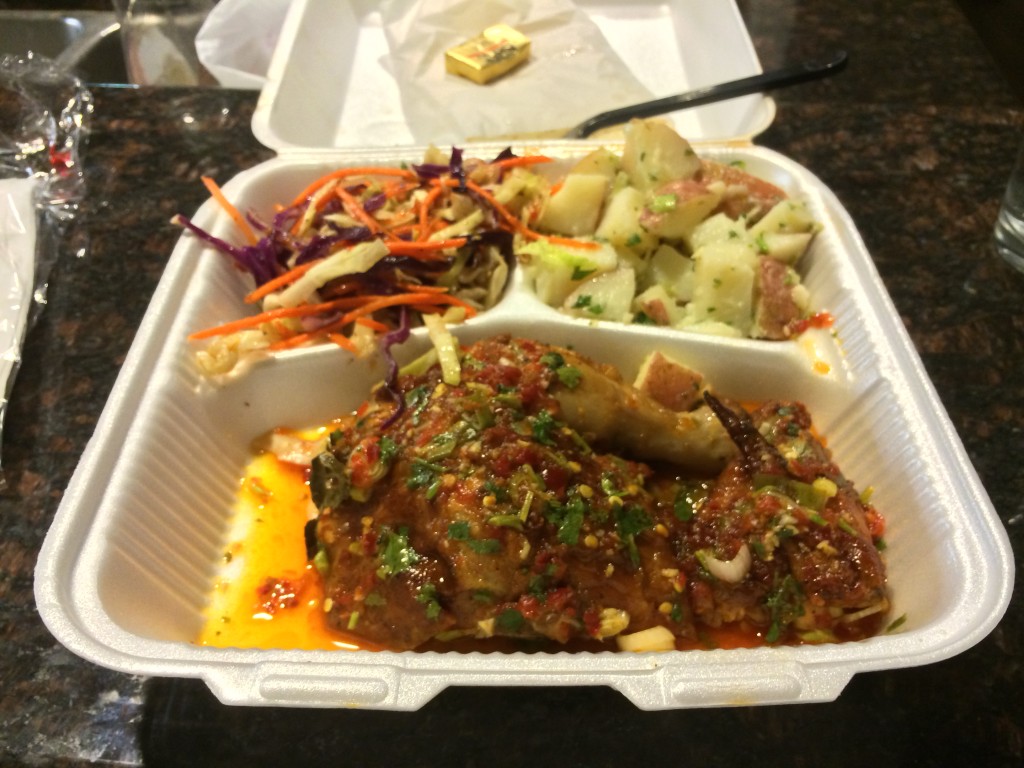 2. Au Lac $$ – Fountain Valley, CA – Au Lac is a nice sit down restaurant specializing in Vegan and Live/Raw Food. Au Lac has some truly unique and innovative plays on Vietnamese and other ethnic cuisine. They have a take on Vietnamese Pho that surprisingly tastes better than a normal Pho and its vegan!  This place is a must try on anyone's list.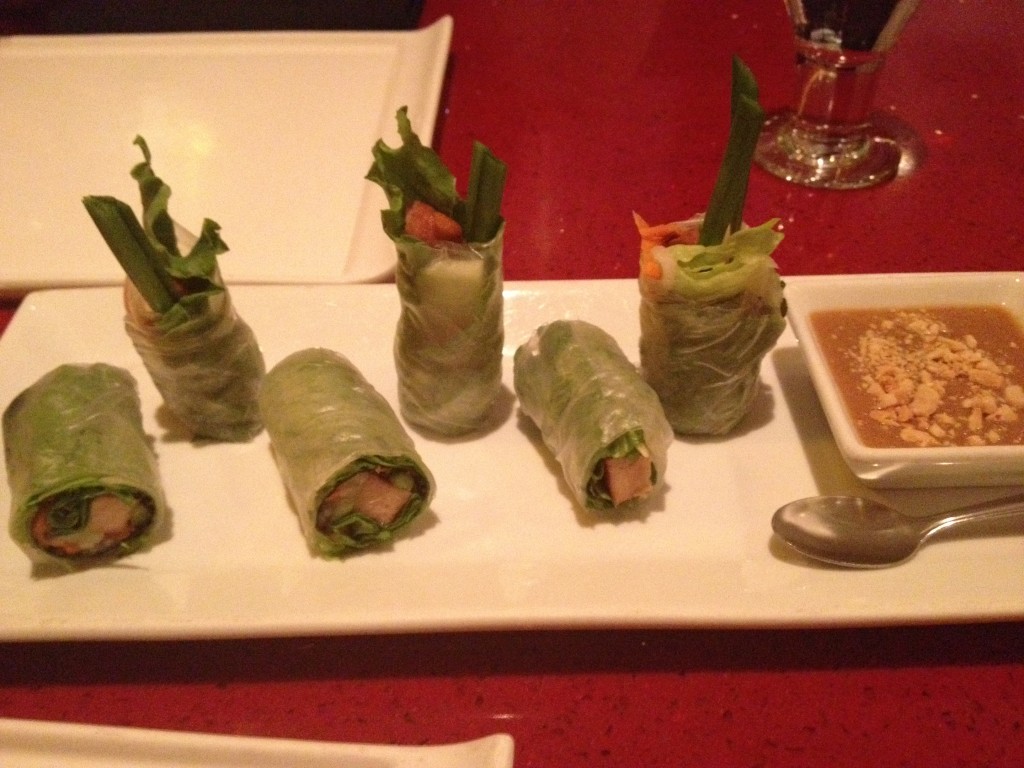 3. Native Foods Cafe $$ – Multiple Locations in Orange County and Los Angeles, CA – Native Foods Cafe is a fast casual vegan restaurant serving made from scratch food that is not only good, but good enough to be enjoyed by non vegans as well. They have daily specials and a frequent membership club with discounts. Their Twister Wrap and Ensalada Azteca are both must try items. 
4. PokiNometry $ – Anaheim, CA – There should be a PokiNometry near every work place, to give the option of a fast and healthy lunch. PokiNomety offers Poki which is a Hawaiian dish including raw cubed fish, spicy seasoning, vegetables and sauces.  PokiNometry specializes in rice bowls, salads or nachos where you choose your fish, sauces and toppings.  To keep your bowl healthy go with the brown rice or salad options and stick to the Ponzu and Soy Sauce choices.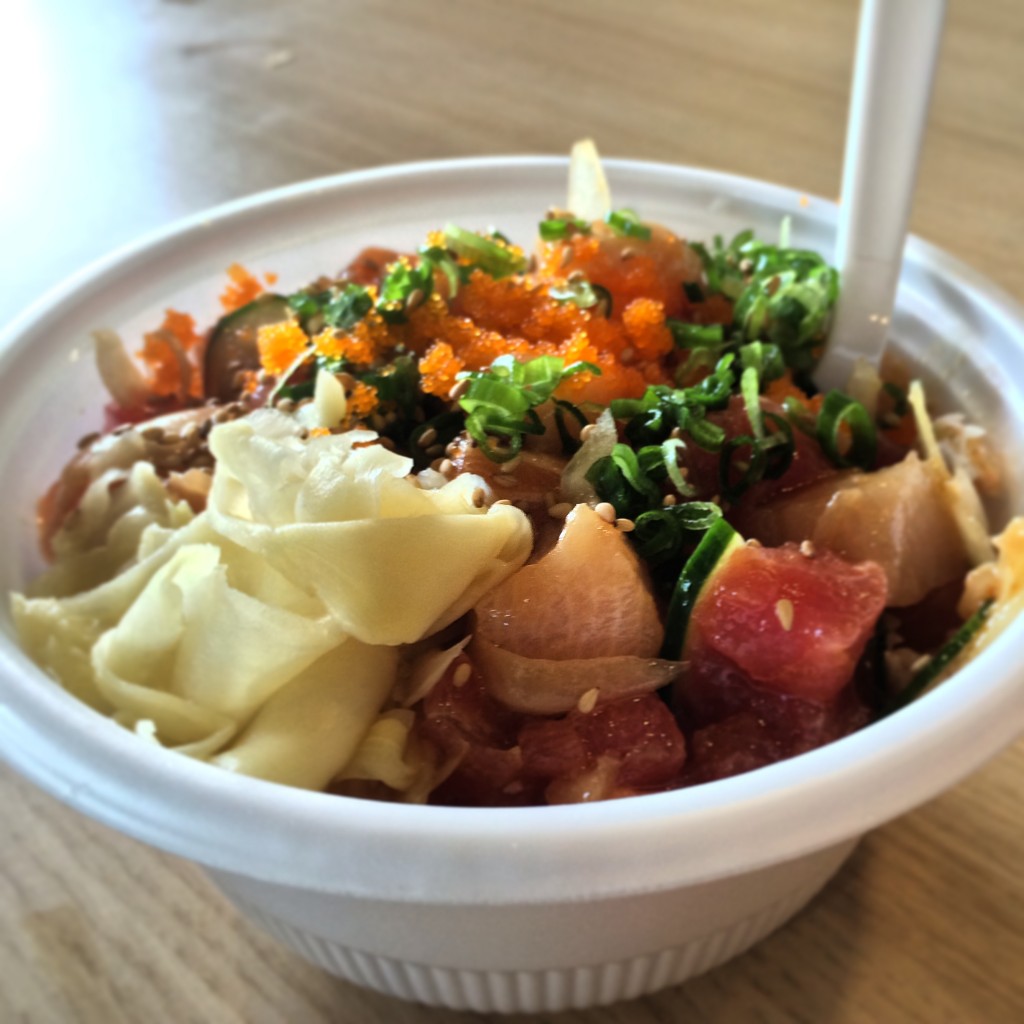 5. Green Tomato Grill $ – Orange, CA – Green Tomato Grill offers fresh, local and organic ingredients cooked to order made with unique sauces and marinades from around the world. All calories are listed on their menu in the restaurant ranging from 400 to 700 calories. The Thai Peanut Bowl and Fried Green Tomatoes is a solid hit and ask to try out their different sauces to find your favorites.  If you check in on yelp you can get a free Chili Lime Popcorn.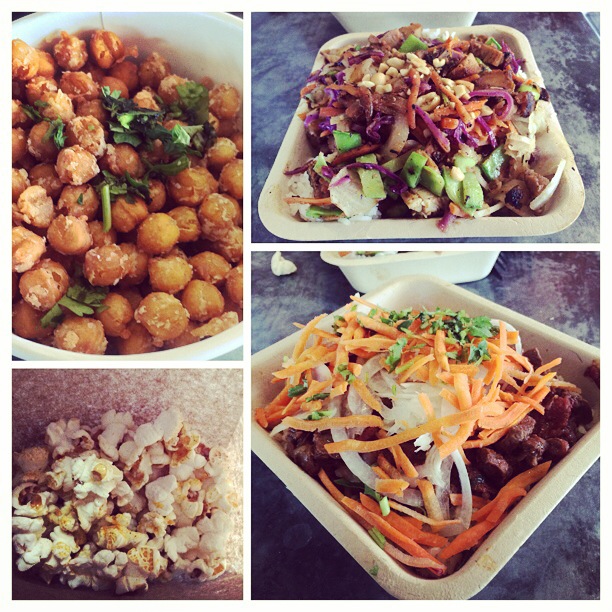 6. Tender Greens $$ – Multiple Locations in Orange County and Los Angeles, CA – Tender Greens uses a farm to fork philosophy and works with sustainable practicing local farms. They offer a variety of different entrees, salads and sandwiches. The great healthy options include Salt and Pepper Chicken over Salad, Herb brushed Albacore over Salad, Grilled Thai Octopus Salad and Tuna Nicoise Salad.
7. Kaju Tofu $$ – Garden Grove, CA – Kaju specializes in Korean Soon Doo Boo (Soft Tofu Soup). You can choose from no spice, mild, medium, spicy to very spicy and choose your favorite type flavors ranging from Beef, Pork, Seafood, Kimchi Beef, Dumpling, and even Ham and Cheese. They also provide you a plethora of Banchan (appetizers) at no extra cost ranging from Kimchi, Spicy Cucumbers, Fried Fish Cake, Bean Sprouts, Small Fish and Potato Salad.  Soon Doo Boo is a healthy option as well as their Vegetable or Mushroom Bibimbap which is a variety of vegetables in a hot stone pot of rice.  Just try not to splurge too much on the free Banchan.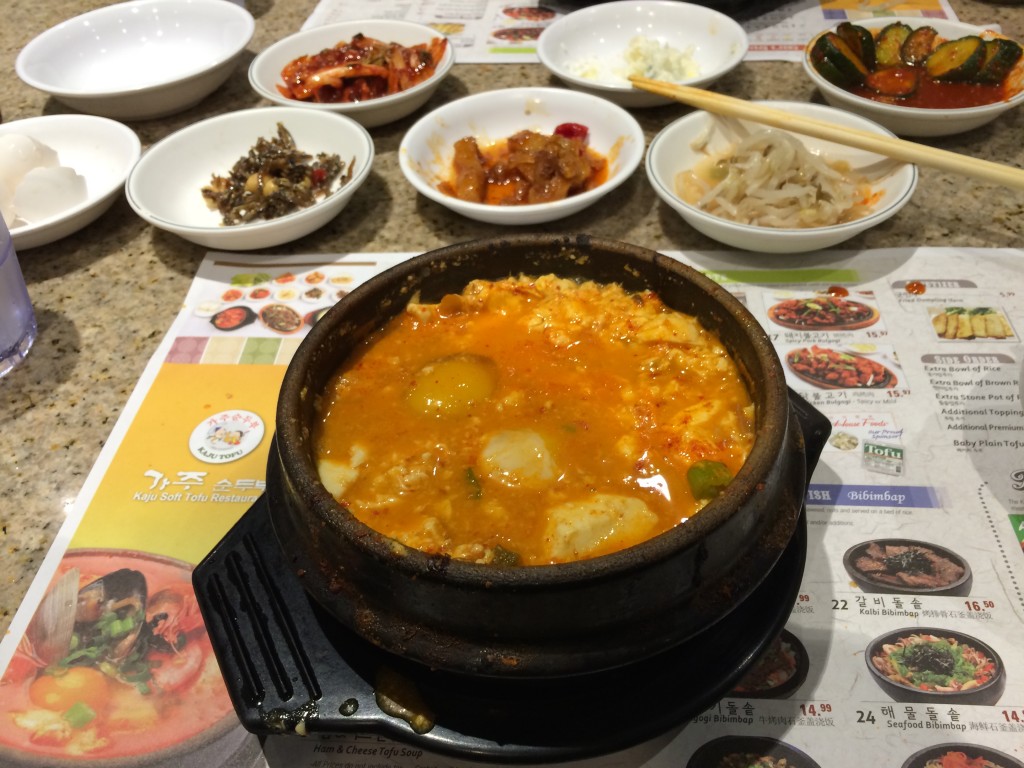 8. Veggie Grill $$ – Multiple Locations in Orange County and Los Angeles, CA – Veggie Grill is fast food vegetarian restaurant that has flavorful food that non vegetarians can enjoy as well. Veggie Grill has a Santa Fe Crispy Chickin Sandwich that tastes better than a real chicken sandwich. Their Quinoa Power Salad and Cauliflower Mashed Potatoes are also delicious options.
9. Tortillaz Healthy Mexican Grill $$ – Irvine, CA – Offers fresh healthy Mexican food. Tortillaz makes their tortillas in house and you can choose from Wheat, Spinach, Tomato Basil, Flour and Corn. You can also get Jicama and Guacamole instead of Chips.  The standout has been their Carne Asada Burrito with a wheat or spinach tortilla and don't forget to grab a good helping of their creamy cilantro sauce from the salsa bar.  The creamy cilantro sauce makes the burrito 2x as good. 
10. North Shore Poke Co. $$ – Huntington Beach and Cerritos, CA – North Shore Poke Co offers a variety Hawaiian Poke. They offer 8 different styles of Poke, where you choose your fish and then get it over white rice, brown rice or cucumbers. The popular flavor is their Waimea which is a in-house blend of their spicy mayonnaise.                
11. Seabirds Kitchen $$ – Costa Mesa, CA – Seabirds started as a food truck and has since transitioned into a casual Vegetarian sit down restaurant located in The Lab. They offer a wide variety of menu items that changes with the season. Things to try include the Purple Taquitos, Burnt Brussels Sprouts and Beer Battered Avocado Taco.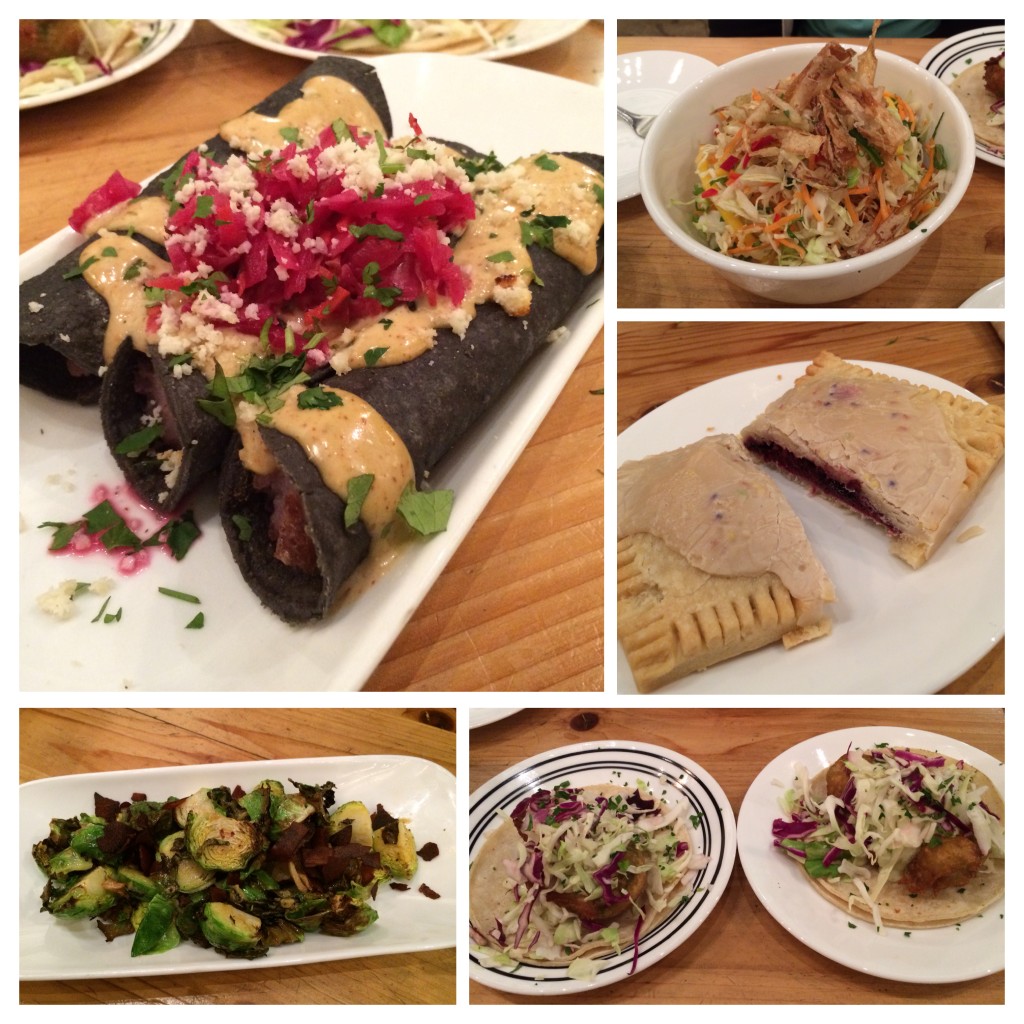 12. Healthy Junk $$ – Anaheim, CA – Healthy Junk offers all your favorite comfort foods in healthy, vegan and gluten free options. Their menu consists of Chili Cheese Fries, Nachos, Corn Bread, Fish N Chips, Salads, Burgers, Sandwiches, Tacos, Fajitas, Pizzas and Dessert.